The top 10 Houston media members searched for on mikemcguff.com in the last decade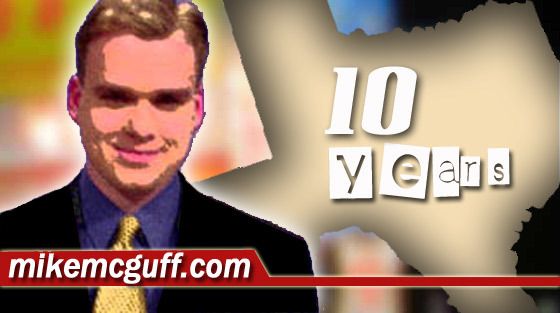 Just like Keanu Reeves might say, "Whoa!"
Can you believe
mikemcguff.com is 10 years old
? We had a blast going down memory lane looking at the
top 10 posts of all time
, but there's one more thing we can use to stretch the decade of media decadence!
So, which Houston media members are searched the most for on Google and other engines? That means we are seeing the big dogs in Houston TV and radio you are looking for to find my little old blog.
This will answer the question some have as to why I cover certain people so much. That's because the people have spoken!
Now, in reality the number one searched person is me. But that kind of makes sense when you consider my name gets folks to this destination. Strike the old McGuffer and fun variations of my name like "Mike McGruff" out of the mix.
So now on with the show!
1.
Jennifer Reyna
Are you really surprised KPRC 2 morning traffic anchor
Jennifer Reyna
is the number one most searched person in Houston media on my blog? I'm not. Why? Because anytime I look at my live blog traffic stats, someone is searching for her. We're also talking about someone who had an entire Twitter feed dedicated to her at one point.
2.
Dominique Sachse
Wow, look at that...KPRC 2 talent take the top two spots. Also, a no brainer even if a few commenters' heads will explode upon seeing
Dominique Sachse
on the list (I think Sachse bashing is a sport for a few out there). People demand to know why I cover Sachse a lot. Well here is your answer. If readers are Googling her this much, then there is demand for coverage. Simple as that. Here's a twist. If I combined Sachse's search numbers with her husband's,
Nick Florescu
, then these two would be number one. In fact, more people are searching for Florescu on this blog than most people actually
in
the media.
3.
Sam Malone
When
Sam Malone left 104.1 KRBE
, the Internet exploded way before Kim Kardashian showed off her
ass
ets online. Then when he was
let go from Mix 96.5 and 740 KTRH,
the same thing happened.
Malone is a true survivor
in the Houston radio business. He now hosts a morning show at 1070 The Answer KNTH. When others come and go in this tough industry,
Malone perseveres and thrives
. Even when he is taking to YouTube challenging me to push up contests (more on that later).
4.
Casey Curry
KTRK abc13 meteorologist
Casey Curry
dominated my top 10 blog post list of all time. No surprise people are searching for her. If I post about Curry, they will come.
5.
Lisa Foronda
Former KHOU 11 anchor
Lisa Foronda
left the TV news biz in 2006. However, that didn't mean she left viewers' hearts. They still look her up and ask me about her all of the time. Last I heard, she is
working for Memorial Hermann
.
6.
Lucy Noland
Foronda's successor,
Lucy Noland
, left KHOU in 2011. Wherever Noland goes, her viewers hit the search engines for more info and find my blog. Currently,
Noland works for Philadelphia's FOX 29 WTXF
. Last I heard, her co-anchor has a familiar name in Houston - former KPRC 2 anchor Iain Page.
7.
Chris Baker
Remember AM talk show host Chris Baker? Sure you do. He started off at 740 KTRH in the early 2000s or so. Then he left for KTLK-FM Minneapolis. Then he came back to 950 KPRC. Then he was on the air at 700 KSEV. His listeners in both Houston and Minneapolis scoured Google for info during these years and found little ole me. It was such a big deal, I created a
Chris Baker
page that listed all of this stories.
8.
Chita Johnson
KHOU 11 meteorolgoist
Chita Johnson
is searched for on search engines with all kinds of parameters. Most I cannot republish here since this is a PG blog. Yep, when Johnson first arrived, I forecasted a chance of popularity. That was met with 100% certainty.
9.
Whitney Casey
Whitney Casey
hosted KHOU 11's
Great Day Houston
when it first hit the air. Then she left and wrote a book. I remember seeing someone from the Sirius Radio network looking at my blog the day before Casey was scheduled to be on The Howard Stern Show. If you listen to Howard, then you know Baba Booey and crew do lots of research. That means even down to the granular level of my little blog. Anyone know where Casey is now?
10.
Sharron Melton
We've gone over this one numerous times, but here we go again. When abc13 KTRK anchor
Sharron Melton
was demoted to field anchor and then left the station, she very quickly became my number one post of all time! So no surprise she made an appearance in the top 10 searches. The only difference for Melton than from some of the others above is her stuff happened in the age of social media. That means my posts were shared on Facebook, Twitter...etc. and less people were actually searching for her. It's a changing world my friends. Plus, all this happened to Melton in just the last few years. Give her more time, she'll move up the list.
HONORABLE MENTION
Pat Gray
is next on the list. After all, he did leave 700 KSEV for the national airwaves of The Glenn Beck Show. Expect searches for him across the United States.
COMMENT
:
Click to leave your thoughts on this post here