KPRC 2 morning meteorologist Anthony Yanez heads west to KNBC LA where Daniella Guzman is morning anchor
UPDATE JANUARY 12, 2015
PHOTOS: KPRC staff's big Anthony Yanez KNBC send off party
UPDATE DECEMBER 29, 2014
Britta Merwin to replace Anthony Yanez on KPRC 2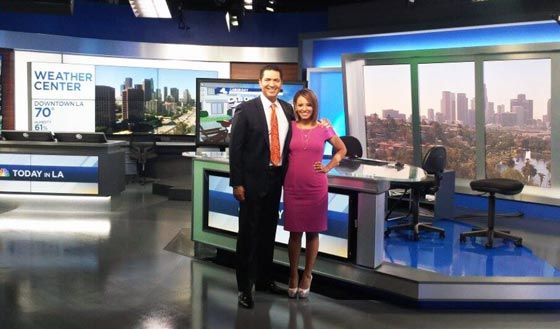 A KPRC reunion: Anthony Yanez & Daniella Guzman on the KNBC Los Angeles set.
KPRC 2's Anthony Yanez is starting a new chapter in his life. The longtime Houston morning meteorologist is becoming the noon and 5pm meteorologist at KNBC LA.
"It's bitter sweet, all my kids were born here in Houston," Yanez told mikemcguff.com. "But you get this opportunity and grab it."
Anthony Yanez
Longtime Houston TV watchers will remember that former KPRC 2 weekend anchor
Daniella Guzman is the morning anchor at KNBC
. In fact, Yanez tells me Guzman was the anchor he auditioned with for the NBC owned and operated station (see photo above).
-------------
PHOTOS
:
See pictures from Yanez's KPRC goodbye party
!
-------------
Yanez is a member of the
KPRC morning crew that earned the NBC affiliate its first morning ratings win
. I've always thought he and morning anchor Owen Conflenti have a good chemistry on the news - much in the way Tom Koch and Don Nelson have it on KTRK abc13. Yanez tells me that's because he and Conflenti are good friends off the air too.
Before Houston, Yanez worked for KRQE 13/KASA FOX 2 Albuquerque, NM where he is originally from. He is a graduate of University of New Mexico.
Houstonians will still get to enjoy Yanez's forecasts for a few more months. He tells me his last day at KPRC will be January 15 and his first at KNBC is January 21st.
And speaking of new chapters, Yanez is launching a writing career too. He's about to release
A Wild Ride on the Water Cycle
- a children's book that teaches weather science to younger readers.
The soon to be Los Angeles resident already has another book in the works too!
For more information on the book -
anthonyyanez.com
UPDATE JANUARY 12, 2015
PHOTOS: KPRC staff's big Anthony Yanez KNBC send off party
UPDATE DECEMBER 29, 2014
Britta Merwin to replace Anthony Yanez on KPRC 2
RELATED
-
KPRC 2 meteorologist Anthony Yanez's new beam of sunshine
-
Anthony Yanez adds to the KPRC 2 family
COMMENT
:
Click to leave your thoughts on this post here