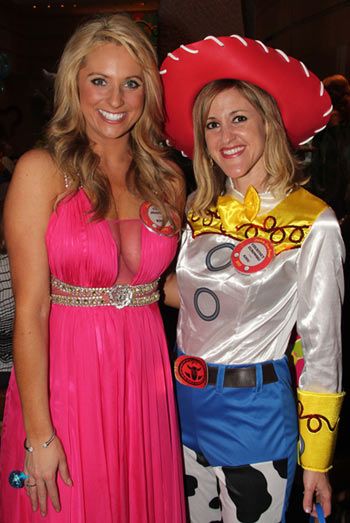 KHOU 11's Chita Johnson & Courtney Zubowski at last year's event
Lots of Houston media types will be on hand for the ESCAPE Family Resource Center's 32nd Annual ESCAPE Celebrity Serve Benefit including one really wealthy dude.
Texas energy tycoon T. Boone Pickens will serve as CEO (Celebrity Executive Officer) at the event where he will direct the Houston celebrity servers who will be mingling with guests to help raise funds to help prevent child abuse and neglect in the Houston area.
Joining Pickens will be: "Live" Auction Auctioneers KTRK-TV News Anchor
Tom Koch
and Houston PBS TV Host
Ernie Manouse
; Celebrity Servers KTRK-TV Reporter
Sonia Azad
and "Live Well Network 'Deals' Host
Kat Cosley
; KPRC-TV Anchor
Andy Cerota
;
Bob Allen
of Bob Allen Media; KHOU-TV Reporter
Courtney Zubowski
, Meteorologist
Chita Johnson
and Morning Traffic Reporter
Katherine Whaley
; KTRH Radio Morning Anchor
Shara Fryer
; Lopez Family Taekwondo Olympic Champions; The 9-5-0 Radio Host
Michael Garfield
, Astronauts Walt Cunningham and Gene Cernan; KRBE Radio/FOX 26 Personality Dave Morales; CBS Radio/FOX 26 Personality
Cleverley Stone
; Buzz Lady
Roseann Rogers
; "Delicious Mischief" Radio Host John DeMers, Celebrity Stylists Ceron, Todd Ramos and Edward Sanchez and Houston icons in the world of philanthropy and business, Lynn Wyatt and Robert Sakowitz.
The Celebrity Serve Benefit is a major annual source of funding for the 501(c)(3) nonprofit organization and is held in April as part of National Child Abuse Prevention Month. ESCAPE, whose mission is to prevent child abuse and neglect before a child is harmed, helps promote happy childhoods by providing intervention, education and support programs to families in crisis. Founded in 1983 by the Houston-area chapters of The National Exchange Club, ESCAPE relies on private support to prevent and combat emotional, physical and sexual violence towards children.
Tickets to the "Color My World" ESCAPE Celebrity Serve Benefit start at $400 and table sponsorships range from $4,000 to $15,000. For those interested in purchasing tickets or tables, or donating to the live auction, please call Chris Rambeaux at 832-367-9117 or ESCAPE, Sandi Mercado, (713) 942-9500, ext. 14, or go to
learntoparent.org
and click on the "Celebrity Serve Benefit."
RELATED
Houston media members dress up as toys
COMMENT
:
Click to leave your thoughts on this post here