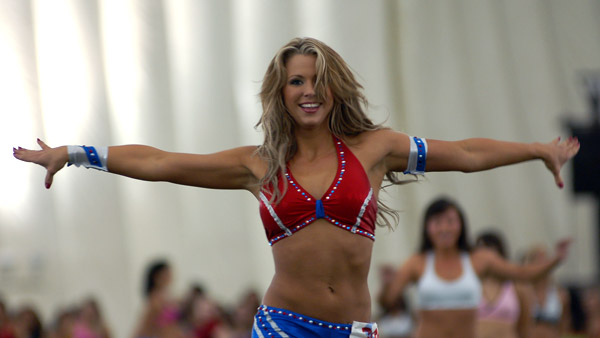 You won't see much of these anymore
since I left
abc13.com KTRK, but enjoy some of my photo assignments from 2009. I got to flex my photo skills (and sometimes Flash work) in what I considered to be the favorite part of my job.
PICS: Body Art Expo Houston (tattoo photos)
This was like taking photos while balancing on a tight rope! I worked for a family friendly site, not T
he Houston Press
. There was a lot of stuff around there that wasn't necessarily family friendly! Don't worry, I think I pulled it off.
Houston Texans Cheerleader tryouts part 1-4
Every guy (and maybe some girls) enjoyed my week of
award winning
Houston Texas cheerleader tryout photography. The web traffic doesn't lie my friend.
X-treme skaters and BMXers
I went out to Magnolia High School and photographed some extreme sports dudes who have participated in the X Games (including Koji Kraft (Chicago, Illinois), Jay Eggleston (Denver, Colorado), Trevor Meyer (St. Park, Minnesota), Anthony Furlong (Tampa, Florida), Jay Stevason (Toronto, Canada) and Marc Englehart).
Buffalo Bayou Houston pictures
I took a history boat ride down Buffalo Bayou and discovered a hidden view of Houston. It's where nature meets urban life. We went only miles from downtown Houston, but from the photos you'd think we were in the middle of nowhere.
Historic Texas maps
One of my personal projects for abc13.com involved restored historical maps of Texas. That includes an early 1900s map of Houston and a late 1800s map of Harris County! If you love Texas history, you should like this.
Spring break on Galveston's beach
We saw how the
Houston Chronicle
was doing this and no doubt raking in the page views.
Remembering the Shamrock Hotel
For St. Patrick's day I decided to put together a multimedia project for abc13.com about the Shamrock Hotel. My parents used to take me there for dinner. Or at least we went once and I can remember looking out at the massive pool and diving boards. It was a special time. I gathered interviews with Tom Horan who was the PR guy, raw video and photos of the giant Houston hotel.
Houston Livestock Show and Rodeo photos
Always a fun time shooting the carnival and rodeo. I was down on the floor of Reliant Stadium and got some great action shots for not knowing what I was doing.
Carnival photos
|
Rodeo photos
Houston Auto Show Pictures
I had the pleasure of taking photos of the Houston Auto Show at Reliant Center. It's always fun seeing the new car, concept and classic cars that fill the massive floor.
Chevron Houston Marathon 2009 photos
It became a yearly tradition for me to wake up at 3am and head downtown for the epic work day. Was it a marathon for the runners or for me when I left work at 7pm each time?
COMMENT
:
Click to leave your thoughts on this post here