DALLAS - FORT WORTH
Elizabeth Dinh
joins
Fox affiliate KPTV Portland, Oregon as weekday evening anchor.
Reporter Arezow Doost
is exiting
CBS11, relocating to Austin with husband, former KHOU 11 reporter
Kevin Peters
.
Fox4 KDFW reporter Melissa Cutler
has left the station
.
Mac Daniels
has been promoted
as Program Director for KPLX 99.5 FM The Wolf and New Country KSCS 96.3 FM in Dallas.
HOUSTON
Josh Hubbard started as the KHOU 11 assistant news director last September. He's worked at KUSA, KCRA, WPTZ and WSTM in the past. He fills the void left by
Jack Acosta
who was upped to KENS SA news director last April.
Byron Nichols has been named KPRC 2's chief photographer.
Former KTRK abc13 morning executive producer Rhonda Lamon has joined KPRC 2 in the same role.
FOX 26 KRIV Morning Executive Producer Andrew Gillfillan leaves for KNTV San Jose.
Brandice Bailey
joins
San Francisco CBS-owned station KPIX as morning executive producer from FOX 26 KRIV.
Fox 26 KRIV assignments editor Christi Rodriguez is leaving for a job with the American Heart Association.
Former KPRC 2 reporter
Mary Benton
is now Director and Advisor to Commissioner Gene L. Locke at Harris County Precinct One. She previously worked as the Manager, Media Relations and Public Affairs for the Harris County Toll Road Authority.
Ex-ESPN & CSN-Houston anchor Steve Bunin is now a host on Yahoo Sports Radio.
=============================================================================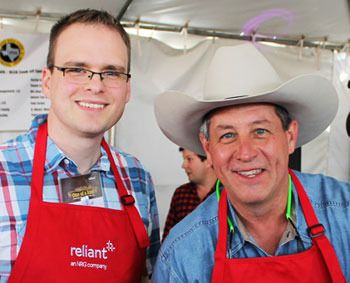 Help me win money for charity!
Every week, I give you the Houston media coverage you'll find nowhere else and on top of that at no cost to you. So pay me back by voting in the Reliant Rodeo Roundup Challenge.
Just
VOTE HERE
! Once click, that's it. You can vote once a day until Friday.
Share this link with others:
http://bit.ly/1KQwOGo
Thanks,
Mike
=============================================================================
-
Carlos Robles joins Telemundo Houston
-
Vicente Arenas joins KUSA 9NEWS Denver
-
James Starks exits KPRC 2
-
Houston Public Media names Andrew Schneider politics-government reporter
-
KHOU 11 hires Sally Ramirez as news director from KGW Portland
-
FOX 26 KRIV assistant news director and managing editor jobs cut
-
Houston Chronicle leaves downtown for redone Post building
-
Don Teague suddenly exits FOX 26 KRIV
-
KHOU employees getting buyout offer from TEGNA
-
Lindsey Day exits FOX 26 KRIV
SAN ANTONIO
Brian Gann
Upped
To Dir./Operations For Spoken Word, iHeartMedia Austin-San Antonio.
-
Jairo Lozano joins Telemundo 60 San Antonio
AUSTIN
KVUE's Tina Shively trading a.m. shift
for new p.m. gig
as the station's social media specialist.
The Billy The Kidd Show
debuted
on KHFI (96.7 Kiss FM)/Austin.
Longtime Austin traffic reporter Joe Taylor
switches stations
.
AROUND TEXAS
News Channel 25 KXXV Waco anchor, Bruce Gietzen,
will be leaving
after 12 years to become the Director of Communications for the Waco Independent School District effective May 31st. Gietzen used to work at KTRK as a sports reporter and as a member of the Houston Rockets radio team.
Houston native Niku Kazori joins KCBD Channel 11 Lubbock, TX as Weather Anchor/Reporter.
Miranda Leah leaves KRIS 6 News Corpus Christi for RNN - FIOS1 News in New York.
REMEMBERING
-
San Antonio broadcast icon Bob Guthrie dies
-
KENS 5 family remembers former anchor Fred Lozano
As good as people think I am at tracking Texas media job moves, my image is better than reality. Don't expect that I see every Twitter or Facebook post about your new job. Don't get mad at me, contact me below to make sure I don't miss your big career move!
-
Contact here for job changes
-
Looking for TX TV jobs
?
RELATED
-
Texas TV & radio job moves January 2016
-
Texas TV & radio job moves December 2015
-
All the new and disappearing faces on Houston TV screens in 2015
COMMENT
:
Click to leave your thoughts on this post here