What is KPRC 2's Ron Stone without Doug Johnson?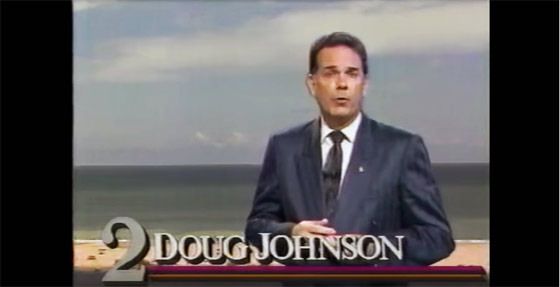 We continue our look at classic KPRC 2 and Ron Stone videos this week that have recently surfaced on YouTube thanks to Houstonian Josh Burdick.
But how can you cover Stone without mentioning his partner in TV gold, weatherman Doug Johnson? In 1991, KPRC produced a still current staple in the Houston TV market, the hurricane special. The
The Greatest Storm on Earth
takes a look back on the big storms to hit our area like the Galveston storm of 1900, Hurricanes Carla and Alicia plus more.
I have to take a moment to mention, this show was totally sponsored by the Bob Lanier for Mayor campaign. And check out the hilarious Houston Post commercial before the show starts!
Channel 2 pulled out some great historical photos from the past, along with its vast video archive. In fact, check out how Alicia turned Johnson literally blue during the station's non-stop coverage.
Also featured our members of the KPRC weather team including
Ted Shaw
, Roland Galvan and Dave Dickson. Reporters and anchors who get some face time are
Ken Fairchild
, George Nelson, chief photographer
Fred Edison
,
Dan O'Rourke
and
Bill Balleza
.
RELATED
-
WATCH: Ron Stone covers the 80s in 'So Long Urban Cowboy'
-
What is KPRC 2's Ron Stone without Doug Johnson?
-
VIDEO: KPRC 40 Years - A Houston Essay with Ron Stone
-
WATCH: Ron Stone's last KPRC 2 newscast
-
VIDEO: KPRC 2's Ron Stone and Doug Johnson sure had on air chemistry
-
VIDEO: Classic Houston TV hosts talk about golden age
COMMENT
:
Click to leave your thoughts on this post here