UPDATED FEBRUARY 06, 2019
Brooks Garner gone from KHOU 11
KHOU 11's Brooks Garner is causing a heat wave on KHOU 11 as one of TV Guide's '10 Sexiest Weathermen on Earth'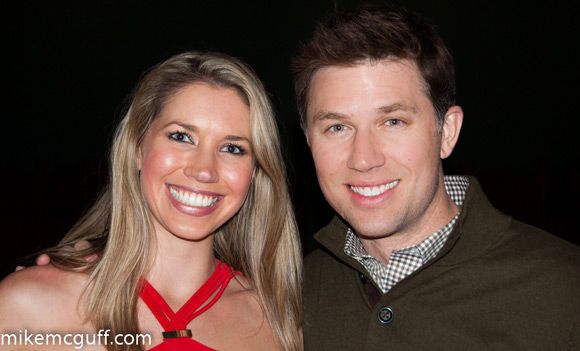 KHOU's 11 weather hunk Brooks Garner and girlfriend Erica Harness
These days when I tune into KHOU 11, I can't tell if that's George Clooney or meteorologist
Brooks Garner
. It all became confusing as soon as Garner made
TV Guide's
The 10 Sexiest Weathermen on Earth
list.
Serioulsy, I haven't been this excited about a hunky weather guy since
KPRC 2 meteorologist Jonathan Novack was cast in ABC's The Bachelorette
in 2010. Is that a warm front coming into Houston or am I just suddenly getting overheated?
Since one of Garner's newscasts is channel 11's noon show, will we see him bare chested on the weather wall talking about a vertically erect system? (That is seriously a real weather term)
"Shirtless on the Noon," Garner laughed with mikemcguff.com. "Only after I secure a seven-digit contract with CBS network as a permanent fixture on,
The Young and Restless
. Of course, I'd have to get my chest waxed and tanned. Yeah -- so not going to happen."
Garner was surprised by his #10 slot on the sexy list, but he figures a snarky tweet might have gotten him nominated.
"Several months ago,
People Magazine
solicited newscasters around the country to enter into their 'Sexiest People' contest, and snarkily, I tweeted something about it (and never heard anything else), so I'm wondering if
TV Guide
somehow stumbled upon the idea of rating weather people," Garner told me.
Sexiest Weatherman!? Vote in People Mag's by tweeting @peoplemag with name (and Twitter handle, like @BrooksKHOU) using #SexiestAnchorAlive
— Brooks Garner⚡️ (@BrooksKHOU) October 7, 2014
But before you dismiss this hot weather dude as all beauty and no brains, Garner actually came up with the idea for KHOU's weather wheel which has since been adopted at other television stations across the country.
"One day, David Paul and I were brainstorming simple ways to present detailed forecasts," Garner told mikemcguff.com. "It would be too much info on one TV screen to try to squeeze 12 hours of data, so I conceived the weather wheel. We agreed it was a viable solution and I sent my drawing up to the art department, and KHOU's lead graphic artist masterfully executed our objective."
And sorry ladies, before you try to find Garner's SnapChat username, I have to tell you his girlfriend Erica Harness (pictured above), might take issue with you hitting on her man.
My Orogenous Zone is tingling (no serious, once again a real weather term). Special thanks to theweatherprediction.com's list of
sexy sounding weather terms
for helping me write this post.
RELATED
KHOU meteorologist Brooks Garner has UFO sighting
COMMENT
:
Click to leave your thoughts on this post here