The King of Trash Talk meets the King of Pranks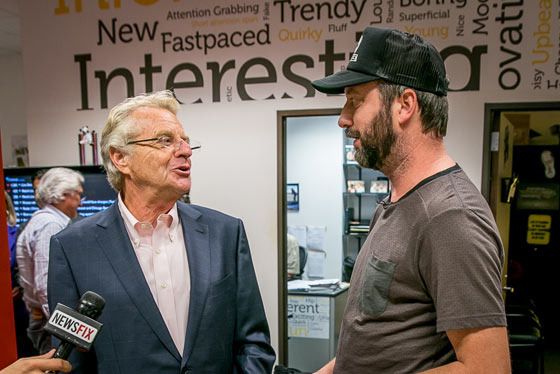 Talk stars collided at the CW39 KIAH studios Thursday. The ringmaster himself Jerry Springer stopped by and so did comedian and MTV star Tom Green.
The two television staples had a pow wow in the middle of the
NewsFix
news room. I wonder if any chairs were thrown? Did anyone touch their
bum
to anything?
Jerry! Jerry! Jerry! was in Houston to meet with CW39 staff members because his show is turning the big 2-5 this year. That's right, if you remember the early days of Springer when
he brought us such classics
as "I married a horse," then you are old.
Get this, I worked in a TV market in the 90s where the Springer show was beating most of the 10pm newscasts.
The new season of the Springer Show starts September 21st.
I've been a fan of Tom Green since his MTV days. Been a fan of his talk shows including his new Webovision launch ever since. Green also does stand up comedy, which is the reason he's in Houston and Texas this month.
Upcoming shows
Tom Green @ Improv 09/11/15 8:00pm Houston, TX
10:30pm
Tom Green @ Improv 09/12/15 7:00pm Houston, TX
9:30pm
Tom Green @ Cap City Comedy Club 09/13/15 7:00pm Austin, TX
Tom Green @ Rivercenter Comedy Club 09/14/15 7:00pm San Antonio, TX
Tom Green with NewsFix's Grego.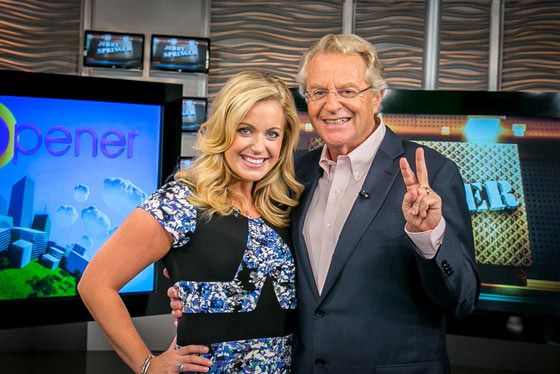 CW39 EyeOpener Houston anchor Maggie Flecknoe with Jerry Springer.
COMMENT
:
Click to leave your thoughts on this post here