Tie Me Up! Tie Me Down!: Houston TV anchors revive the classic tie bar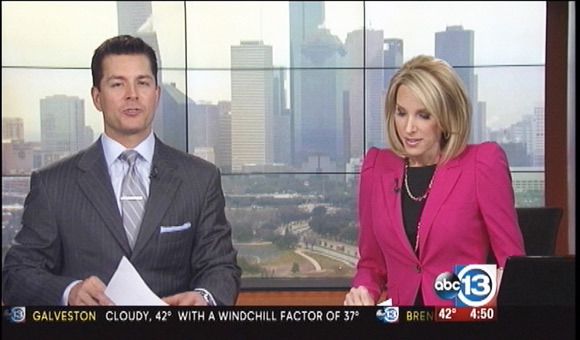 Erik Barajas & Ilona Carson
He first noticed former FOX 26 reporter/anchor
Ned Hibberd
wearing them. Then the characters on AMC's
Mad Men
. Now
Bob Martin aka "The Accountant to the Stars"
is spotting
tie bars
on multiple male anchors across the Houston TV dial.
"When I was growing up, we called them 'tie clips'", Martin told mikemcguff.com. "The tie clips served a great function. One of my first jobs was as a manager of a restaurant. I was required to wear a tie which was always getting in the way and getting soiled in the kitchen. My dad gave me some of his tie clips which were very helpful in keeping my ties out of harm's way."
Houston anchors must be trying to keep their ties from being soiled from breaking news now. Martin has spotted abc 13 KTRK anchors
Erik Barajas
,
Chauncy Glover
and FOX 26 KRIV weekend anchor
Chris Stipes
with the fashion accessory.
"Tie bars are not a new accessory in menswear," Houston menswear consultant and former Chron.com blogger
David Yarbrough
explained to mikemcguff.com. "It's function in keeping the tie in place becomes even more practical when two-button jackets are being worn vs. three-button. It also attracts the eye toward the man's torso, which can highlight an athletic figure."
Fashion experts will tell you the tie bar has actually been around since the 1920s and like any trend comes and goes through the years.
Ashley Martini
, styling consultant and founding member of Martini Fashions, LLC, says this timeless piece can be worn by a man of any age.
"Let a tie bar show a little bit of your personality off," Martini, who also interned with Jennifer Lopez's fashion company Sweetface/JustSweet/JLO told me. "There are so many different shapes, designs and textures out there. Opt for a tie bar in a metal that matches your current accessories. For example, if you wear a gold watch and gold cuff links you should complete your look with a gold tie bar rather than mixing metals.
"Make sure your tie bar fits your tie appropriately. Also keep in mind it should be placed between your third and fourth buttons of your shirt. Avoid a tie bar if you have an oval body shape so you don't accentuate your midsection."
So did Martin keep any of his father's tie bars?
"Unfortunately all of my tie bars and those that belonged to my dad were sold long ago in garage sales," he said. "Now that I'm seeing the revival of them, I'm regretting that I did not keep a few of them for my TV interviews."
And as for this Houston TV anchor fashion trend...
"If male anchors are going to wear accessories, tie bars are much safer for their careers than wearing something like earrings," Martin added.
Chris Stipes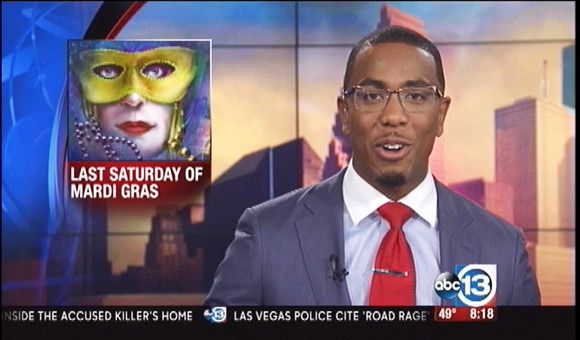 Chauncy Glover
I just use it to keep my tie straight. Nice article @mikemcguff http://t.co/zW94CU5eil @abc13houston #mensfashion pic.twitter.com/I2MkNxEv0L

— Erik Barajas (@ErikOnTV) March 11, 2015
COMMENT
:
Click to leave your thoughts on this post here