New abc13 KTRK 6:30pm newscast debuts with Erik Barajas & Ilona Carson...plus some Dave Ward thrown in?
Call me "
The Newstradamus of H-Town
." More on that in a minute.
As I was preparing my
Stream KTRK abc13 on app with 'Watch ABC'
post, I noticed a brand new 6:30pm newscast debuted on the Disney/ABC owned Houston station.
Even if I hadn't been watching, the tweets and comments started coming my way from curious channel 13 viewers
like this one
:
Hey Mike,
Do you know what's going with the News at 6PM? Dave and Gina were on and then all of a sudden, Ilona and Erik became the anchors at 6:30. It was truly odd...Hope they change it back! Dave is a fixture in Houston television, so they should not cut his air time!!
Eyewitness News at 6pm
has been a full hour with Dave Ward and
Gina Gaston
(or
Shara Fryer
in the past) for decades. Now it appears
Eyewitness News at 6:30pm
with Erik Barajas and Ilona Carson will be the new thing.
Clearly my predictions last week about
Barajas' replacing Ward
in the future at least looks favorable at the moment. Don't think I'm really that good, that rumor has been around the block for years - you know there is the whole
Barajas TV Dynasty
thing that Isiah Carey AKA The Insite came up with.
So Barajas and Ilona Carson look to be the future of KTRK's main anchor desk, but an imposing news icon like Ward will not be easily forgotten - even just for the new half hour show.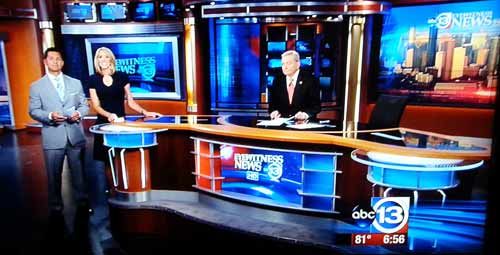 Ward returned at the end to tease the 10pm news (he's still got that one) and to do his trademark "Before We Go" kicker segment. Can we all agree that transition from Barajas/Carson to Ward at the end was awkward? OK maybe not as awkward as
Miley Cyrus twerking
at MTV's 2013 VMAs but still odd.
Then there was the other member of the show...technical problems. Wow. Honestly this was the first time I've watched an entire Houston newscast since I left KTRK in 2009. It was shocking and sad. I've been receiving lots of channel 13 viewer emails in the past year asking me what's up with the station's on-air mistakes but this even surprised me. This reminded me of when I worked in Waco TV. First time I've seen this much go wrong technically on a channel 13 newscast.
Here is what I noticed:
- There was a wild robotic camera problem. It was like the camera got hit by lightning like Johnny 5 and came to life with a mind of its own. It would have been better if an anchor named Stephanie said, "forward" and then NOVA showed up. OK, a bit of an exaggeration, the camera was moving while Barajas was talking, but I love
Steve Guttenberg
and try to work his films in here.
- Anchors looking at wrong cameras
- A giant screen behind the anchors went blank
- Not a technical error but a mistake in my book - I hate that Smart Board. It looks like a gimmick. Does the average viewer care? I think it just slows down the pace even more than normal.
- And then there was this: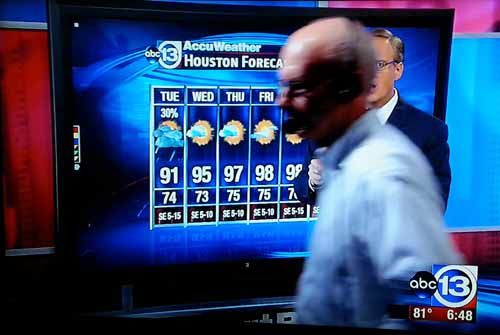 A member of the floor crew walked in front of Chief Meteorologist Tim Heller. Based on Heller's reaction, I bet he didn't even predict that one.
Better luck on episode #2 abc13. Although if it is really like this all the time, I need to start watching more often with my camera ready.
COMMENT
:
Click to leave your thoughts on this post here