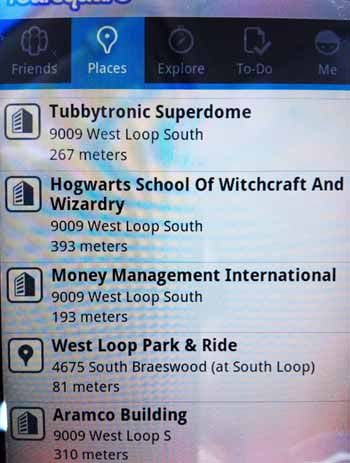 Foursquare is a phone app that lets you checkin places so your friends can see where you are and read tips/recommendations about the place. It also lets you collect points and even become a 'mayor' of a location if you check in the place the most.
I noticed some strange locations featured in Foursquare while checking in southwest Houston's Meyerland area. In the 9009 West Loop South building (home of Saudi Aramco) I noticed two odd listings:
- Tubbytronic Superdome
- Hogwarts School of Witchcraft and Wizardry
Hogwarts is obviously the magical school featured in the Harry Potter franchise. Upon further investigation, I learned Tubbytronic Superdome is where the characters from the children's show Teletubbies live.
At least the folks at 9009 West Loop South know how to have fun. If you care, you can follow me on Foursquare
here
.
RELATED
Foursquare rolls out revamped notification system
COMMENT
:
Click to leave your thoughts on this post here