UPDATE SEPTEMBER 06, 2016
Deborah Wrigley returns to KTRK abc13
Former bosses praise longtime channel 13 reporter Deborah Wrigley as she leaves the station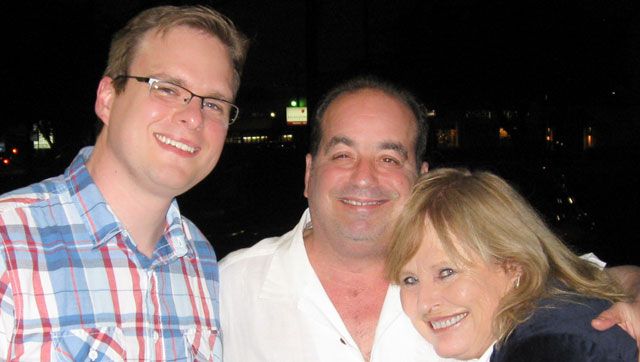 McGuff with Wayne Dolcefino & Deborah Wrigley (2015)
Longtime KTRK abc13 reporter Deborah Wrigley is no longer with the Disney/ABC Television Group station.
"We are disappointed she turned down our offer to maintain a relationship with us," KTRK VP of Creative Services David Lee told mikemcguff.com. "We wish her the very best and appreciate her years of service."
Thursday, Wrigley's bio was removed from the station's website. There has been no mention of any departure on her social media accounts.
After 37 years or so, you can call Wrigley two things, an amazing writer and survivor. Let's focus on the latter for a moment. She is the last standing reporter from when she started (this is excluding anchors). Can you imagine all of the big stories in that time she has covered?
"Every major city has that one person who is a great writer, knows the city inside and out and can turn stories that are compelling, hard hitting or will put a tear in your eye," former KTRK news director
Dave Strickland
told mikemcguff.com. "Deborah is that journalist and Houston is a lessor place without her on our streets reporting."
As far as reporting, Wrigley knows her storytelling. She understands how to get to the heart of a story.
TV staffers will understand this aspect about her writing. If you look at one of her scripts, it would not naturally be cut and pasted over to a web story. She knows how to write specifically for TV in a simple and clear way so it has natural flow for the TV audience. I think this is a style that has been lost over the years.
"She is one of the best news writers in the business," former KTRK assistant news director
Don Kobos
told mikemcguff.com. "There isn't a story in Houston that she hasn't covered and covered well. Deborah's departure negatively impacts KTRK."
And don't get me started on her institutional knowledge of Houston. Tie Wrigley's historical perspective with her love of history and you get one compelling story. I'd day almost untouchable in this aspect.
If you are talking about Wrigley, then you have to mention animals. Her love for our four-legged friends is so well known. Any KTRK producer or assignments editor knows to automatically assign Wrigley to animal stories because her passion will show through.
Where does her flair for reporting come from? It actually doesn't come from a journalism degree, but a University of Houston English degree and maybe even from Hollywood of all places.
Deborah's father, Dewey Wrigley,
did visual effects and cinematography
for the likes of Cecil B. Demille. He was under contract with Paramount his daughter once wrote.
Naturally, Wrigley had a following with the Houston television viewing audience. I have two personal experiences with this.
One time while working at channel 13, I was sent to interview a couple in Pasadena for a consumer segment. When we wrapped up the questions, all they wanted to talk with me about was Deborah Wrigley. She had apparently interviewed them many years before our meeting that day and they loved and followed her ever since. If I remember correctly, the couple had fled their burning apartment building all those years ago, but on that tragic day, were thrilled they got to meet Deborah Wrigley as a result.
When I was reporting for KIAH 39 years ago now, I was dispatched to a brutal convenience store robbery on the east side of the viewing area. Well, Wrigley had been there to cover the story the day before and the employees were still talking about it. After my interview, Wrigley was the topic of conversation, not the clean up after the crime. Once again, these people had just gone through a harrowing experience, but at least they were excited they got to meet Deborah Wrigley as a result.
Let me say from working in the industry and now blogging about it in my underwear, viewers are not usually this excited about meeting TV journalists these days from what I can tell.
UPDATE SEPTEMBER 06, 2016
Deborah Wrigley returns to KTRK abc13
COMMENT
:
Click to leave your thoughts on this post here