KHOU 11's Doug Miller receives praise for his 4/18/2016 flood reporting from the Greenspoint area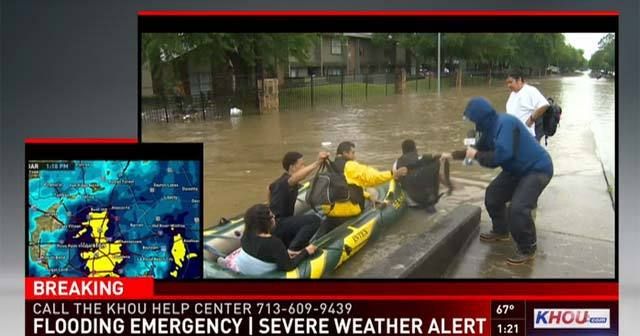 After so much applause (or
criticism depending on your point of view
) for
KTRK abc13 reporter Steve Campion helping a flood victim
out of the water Monday morning, I would also like to shine the light on another Houston reporter who did an amazing job covering rescues while helping out himself.
KHOU 11's
Doug Miller
, who as you first read here is soon retiring, reported from Greenspoint area apartments where the water was at the one of the highest levels in the city.
Miller, along with photographer Sergio Soto, traversed tough conditions to be one of the first TV crews on the scene at the badly flooded apartments. I understand they were the only ones reporting in the area for hours from the bridge next to the complex.
"When we started reporting that story, there were so few people out there we ended up helping pull people out of boats onto the bridge," Miller told mikemcguff.com. "We even had kids floating out in refrigerators and laundry baskets."
— KHOU 11 News Houston (@KHOU) April 19, 2016
"As the day progressed, people who saw our coverage started showing up with more boats and skiffs and canoes," Miller told me. "By the time the mayor got there, there must have been more than a hundred people there helping out."
Miller's work did not go unnoticed by those who were watching the TEGNA station.
"It was a picture of people helping people," KHOU 11 viewer Wanda Stewart wrote to mikemcguff.com. "And a concerned reporter stepping in [to] give some direction to people needing help."
After 14 hours on the bridge, Miller and Soto were relieved by another KHOU crew. Such is the life of members of the media during a tragedy like this one. But always remember, the TV crews get to go home eventually, and sometimes the victims they cover never get that chance.
COMMENT
:
Click to leave your thoughts on this post here