Katie Couric on how Houston beat the oil bust
You might have heard that Yahoo Global News Anchor Katie Couric had been in Houston filming for her series "Cities Rising: Rebuilding America." Above is her report.
Here is more from the
accompanying text article
:
Houston will surprise you. The host city for tonight's GOP debate has been referred to as a modern day Ellis Island, where more than 145 languages are spoken. The sprawling metropolis known for traffic and Tex-Mex is also home to next year's Super Bowl and has one of the most diverse populations in the nation. Its economy is thriving despite a decline in oil prices, which once crippled the city.

In the early '80s, Houston was riding high on oil. In 1980, 82 percent of all the jobs in the city were tied to the oil business. When the bottom fell out, Houston's economy took a major hit.

"We paid a huge price," says Houston's newly elected mayor, Sylvester Turner.

Today, despite another oil downturn, Houston is much better positioned to ride out the storm.

"We learned our lesson," says longtime Houston Chronicle columnist Ken Hoffman.

"We have diversified our culture, our industries, our economy. We're past the oil economy dependence."

Yahoo Global News Anchor Katie Couric headed to the Bayou City for the latest stop in her series "Cities Rising: Rebuilding America" and took a close look at the industries that are driving the city today.
============================================================================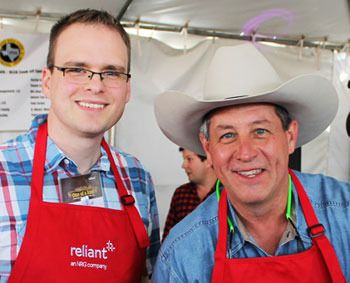 Help me win money for charity!
I need your vote! We are on the last day of the Reliant Rodeo Roundup challenge. My team, benefiting St. Thomas Episcopal School, has been in first place this whole week, but the other teams are quickly gaining ground!
If everyone voted who comes to this blog, this contest would have been wrapped up a long time ago.
Your vote can make a big difference - like a $2,500 one for my charity.
You have until 11:59pm to vote!
Thanks,
Mike
PS
If I win, maybe I can get Dominique Sachse or Chita Johnson to shave my head?!
============================================================================
COMMENT
:
Click to leave your thoughts on this post here