With possible Guns N' Roses 2016 reunion tour, let's look back when KTRK 13 covered the band's Houston Astrodome show with Metallica on September 4, 1992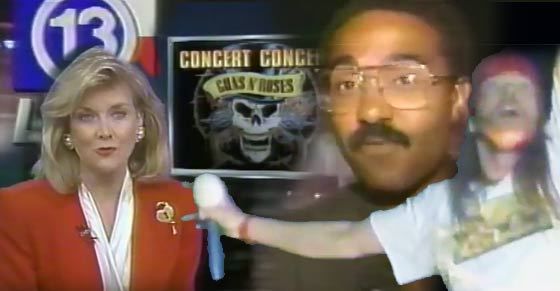 Back in 1992 when Houston embraced the Astrodome, the Republican National Convention had just wrapped up weeks before, and on September 4, the Eighth Wonder of the World was home to the mighty Metallica and Guns N' Roses tour with opener Faith No More!
Fitting because as you have probably heard, a (partially?) re-united Guns N' Roses
is about to announce a tour
which is rumored to have a Houston stop. Although, I'm betting this Axl Rose, Slash and at least Duff McKagan reunion tour will be next door at NRG Stadium sans Metallica. We're still waiting to hear if guitarist Izzy Stradlin or drummers Steven Adler/Matt Sorum will be included.
I believe the 1992 Astrodome show was the last one the original GNR played in Houston.
This was a time when the media covered rock music (outside of
Eddie Trunk
) and KTRK abc13 was on the case (
clip embedded below
). Then anchor
Shara Fryer
tossed to a live report from Chris Adams at the scene for a story on all of the rock and roll mayhem and excess.
"In the audience, it looks like a riot, but it's just dancing," Adams reported. "All in all, a headbangers paradise."
According to the channel 13 story, 45,000 people attended the seven and a half hour show. More than 50 concert goers were treated for "health related problems" and about two dozen were arrested.
"The bulk of the arrests made were for public intoxication," Adams said. "A number of people had to be treated or even carried out, but it was not as bad as it might have been."
I remember sitting at Lamar High School that day and seeing a much emptier campus than normal. Faith No More went on in the afternoon so fans, including my school-mates, had to get there early.
My mom wouldn't let me go and back then I was totally obsessed with Axl Rose and crew. She also wouldn't let me go to the last Houston Nirvana show in 1993 at the Astro Arena, God rest her's and Kurt Cobain's souls.
In the early 90s, I actually studied GNR lyrics, read books and magazines about them and taped photos from said magazines on my closet door. Has that obsession really waned? Is anyone still reading this blog from the early days when practically every other post was about Guns N' Roses and the upcoming
Chinese Democracy
?
I was attracted to the music. After all,
Appetite for Destruction
is considered one of the best rock albums ever by many music fans and think, that was the debut album! And the band certainly knew how to cultivate that dangerous edge. Although even I needed a break from them by the time the
Sympathy for the Devil
cover was released.
While I never saw an original era Guns N' Roses show,
I would later go on to see
an Axl Rose only fronted version in 2006 at the Hard Rock Hotel's The Joint in Las Vegas. Saw the same lineup later in Houston at The Toyota Center in 2011. The new band could play, but it's not the same for me or a lot of others based on the excited reaction to the 2016 reunion.
Who could open for a reunited GNR? Speculation has been a reunited Skid Row, who just lost their new singer,
but the band has already publicly said no
to Sebastian Bach coming back or an opening Guns slot. Skid Row opened for GNR back in 1991 on the
Use Your Illusion
tour.
So what are you waiting for? Go relive your youth through the clip below and then
read this book
!
And make sure to watch Jimmy Kimmel Live this week. Axl is supposed to be on talking about the big shows.
Axl Rose's appearance on 'Jimmy Kimmel' canceled due to 'unforeseen circumstances'
Here was the Guns N' Roses setlist from the Houston Astrodome show
according to Wikipedia
:
(Taken from the Houston, Texas Astrodome show on September 4, 1992)
"Welcome to the Jungle"
"Mr. Brownstone"
"Live and Let Die" (originally performed by Paul McCartney)
"Attitude" (originally performed by the Misfits)
"Nightrain"
"Bad Obsession"
"It's So Easy"
"Wild Horses" (originally performed by The Rolling Stones)
"Patience"
"Double Talkin' Jive"
"Civil War"
"It's Alright" (originally performed by Black Sabbath)
"November Rain"
"You Could Be Mine"
"Sweet Child o' Mine"
"Knockin' on Heaven's Door" (originally performed by Bob Dylan)
"Don't Cry" (Original)
"Paradise City"
Here was the Metallica setlist from the Houston Astrodome show
according to Wikipedia
:
(Taken from the Houston, Texas Astrodome show on September 4, 1992)
"Creeping Death"
"Harvester of Sorrow"
"Welcome Home (Sanitarium)"
"Sad but True"
"Wherever I May Roam"
"Of Wolf and Man"
"For Whom the Bell Tolls"
"The Unforgiven"
"The Shortest Straw"
"Fade to Black"
"Master of Puppets"
"Seek & Destroy"
"Whiplash"
"Nothing Else Matters"
"Am I Evil?" (originally performed by Diamond Head)
"Last Caress" (originally performed by the Misfits)
"One"
"Enter Sandman"
COMMENT
:
Click to leave your thoughts on this post here