The 2015 TXU Energy Houston Media Turkey Calling Contest contestants are...
UPDATE NOVEMBER 18, 2015
Jeff Ehling is Houston media's biggest turkey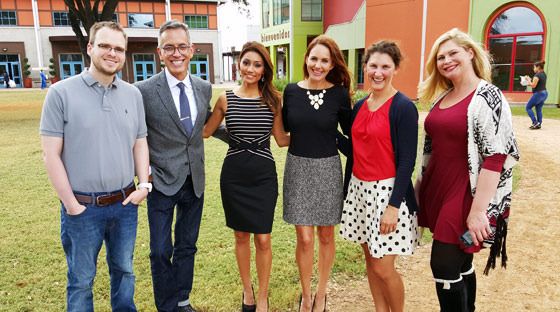 I got a chance to meet some of the FOX 26 KRIV morning & CBS Houston crew at the Baker-Ripley Neighborhood Center.
Once again I'll be participating in the TXU Energy Houston Media Turkey Calling Contest which takes place this Saturday, 9:30am at the Houston Zoo Reflection Pool near the zoo entrance.
This year I will not be a contestant, but serving as emcee with FOX 26 KRIV weekend morning anchor Sally MacDonald.
Let's talk turkey on how this happened. I came in second last year.
The winner for 2014 was the Houston Chronicle's Craig Hlavaty
. Now, Hlavaty really likes being the top Houston media turkey and I think he wants to make sure I don't take his crown...err feathers. Previous winner, Grego from NewsFix, is not participating either. We might want to start a search party for him...
On a serious note, the turkey calling contest exists to promote the annual
TXU Energy Houston Turkey Trot
- the second largest footrace in Houston and a tradition for many families on Thanksgiving morning. More than 20,000 supporters flock the Galleria area to make a difference and support more than 160,000 seniors and children
Neighborhood Centers
serves each year.
A few weeks ago, I took a tour of the Neighborhood Centers Baker-Ripley facility in the Gulfton area. It was amazing to see what is happening there to help area residents. More than a building, it actually could be called a campus, made up of several buildings, including a school, legal assistance center, a credit union, restaurant and more. Turns out one building used to be a retirement place where my grandmother worked in the 1970s!
My fellow emcee, Sally MacDonald, featured one touching story we encountered on her Facebook page.
So the 2015 TXU Energy Houston Media Turkey Calling Contest contestants are (so far):
Craig Hlavaty - Houston Chronicle/NewsFix
Jo Jo - Univision Radio 104.9
Kristina Ramey - 104.1 KRBE
Ron Treviño - KHOU 11
Sarah Pepper - Hot 95.7
Jeff Ehling - KTRK abc13
Joey Guerra - Music Critic/Writer, Houston Chronicle
Joy Sewing - Fashion & Beauty Editor, Houston Chronicle
See you this Saturday, 9:30am at Houston Zoo!
UPDATE NOVEMBER 18, 2015
Jeff Ehling is Houston media's biggest turkey
COMMENT
:
Click to leave your thoughts on this post here