Aerosmith singer Steven Tyler drops by 93Q KKBQ and 107.5/106.9 The Eagle KGLK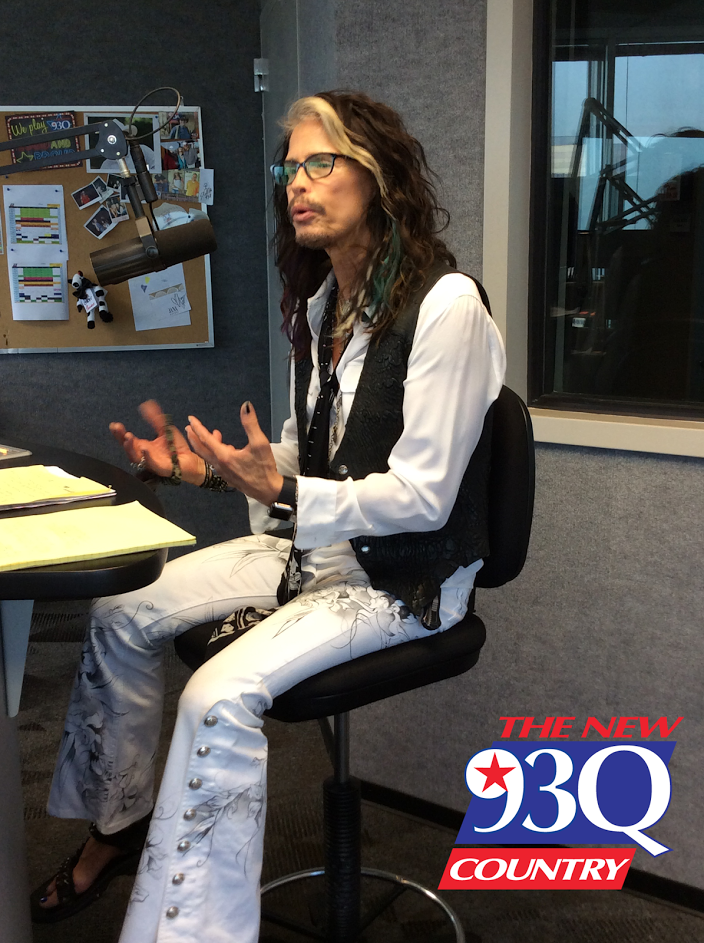 Rock royalty and Aerosmith lead singer Steven Tyler is in Houston today...because of country music?
Yes, half of the former Toxic Twins, is waving his microphone scarves for the Nashville crowd [
hear his new song here
]. But let's face it, there were some 90s Aerosmith tunes that kind of veered in that direction anyway.
With added twang in his voice, Tyler was here to meet 93Q KKBQ program director Johnny Chiang and music director Christi Brooks, plus sit down with the Q Morning Zoo to talk about his move into country music.
A Cox Media Group representative tells mikemcguff.com that Tyler was incredibly nice and even brought his two dogs with him.
And being that this is the lead singer of one of America's greatest rock bands, Tyler did stop in to talk with Dean & Rog over at classic rocker 107.5/106.9 The Eagle KGLK.
UPDATE
Kelly pointed out that after his radio appearances, Steven Tyler
headed over to
Cafe Express in Uptown Park.
RELATED
-
VIDEO: Aerosmith playing in Houston - 1977
-
Walk This Way: The Autobiography of Aerosmith review
-
Aerosmith & Cheap Trick rock Houston's Toyota Center
-
Top pro-shot Houston concerts on YouTube
This is totally going to be my Christmas card the year....#MerryChristmasFromTheTylersSteven Tyler, I <3 u!<3 The Fabulous Jennifer Tyler
Posted by Houston's Eagle on Friday, August 28, 2015
COMMENT
:
Click to leave your thoughts on this post here