After nearly 40 years, Don Nelson is leaving KTRK abc13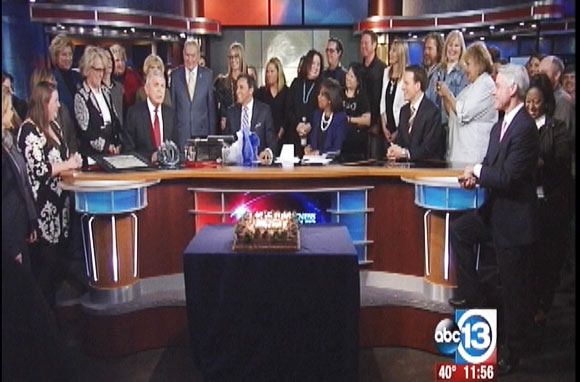 Don Nelson
Don Nelson announced this morning in a quick segment at the end of the morning news that after 39 years and four months at KTRK abc13, he is retiring at the end of the month.
His last day will be Friday, February 27th.
Clearly after nearly 40 years, Nelson has a long history with the Disney/ABC Television Group station. According to his bio, he joined the station as the
Dialing for Dollars
co-host in the mid-1970s. In that show, where
Dave Ward
also served as a host at one time, KTRK and a phone call could win viewers some cash.
As the times changed, that show morphed into
Good Morning Houston
. At that shows peak, Nelson hosted the show with Jan Glenn. I can remember my mom and her friends watching and talking about that show.
One of the reasons I'm still obsessed with Houston TV today is from an appearance I made on the show as a fifth grader!
No anchor wants to hear, "I was on TV with you when I was 10 years old and now I'm working with you," but when I first arrived at KTRK in 2001, Nelson was gracious about it.
Of course, Nelson has also been doing traffic since the early days of channel 13's morning newscast. He and anchor Tom Koch have worked together a longtime and you can tell by their on air chemistry. In the past, I've heard there were times you could add up all the other Houston TV stations' ratings at that time and still could not reach the rating KTRK's morning newscast was hitting!
Really you could call Nelson a total station utility guy. The managers can just move him to where he is needed and TV magic happens. Over the years, Nelson has been the station's entertainment reporter, tech reporter and bizarre news guy with the "Nelson Files."
Former 13 anchor Shara Fryer & Nelson
In the early 2000s when the KTRK 4pm newscast started, Nelson did double duty. He would be on the morning show and then come back for the 4pm and
Live at Five
too where he would be featured throughout the shows.
While all that was going on, he also hosted many of the station's half-hour specials. Nelson and the programming department crew would travel the world showing us different countries and cultures. He would also head west to Los Angeles and interview the stars of ABC. And of course he has also been apart of local programming events like the Houston Livestock Show and Rodeo Parade and the Power of Houston festival. You probably also heard his voice at times as the station's announcer.
Many people might forget that Nelson also was a live street reporter for a time on KTRK's
Deborah
The Debra Duncan Show
way before the talk show host went across the street to KHOU 11 and made her name longer.
Many of my readers have been guessing this announcement would be coming soon and have been very upset by the idea of Nelson not being on KTRK anymore. The station has been preparing for this day by hiring Nelson's presumed traffic successor
Katherine Whaley
after she left KHOU last summer.
Why has Nelson been so successful? Viewers love him. He is the same guy on air as he is off the air. A genuine guy. And of course hilarious. Readers complain on my blog that TV newscasters try to be funny and it falls flat. Nelson is a naturally a funny guy so it works. Combine his proclivity for humor with Tom Koch and it's television gold.
RELATED
Houston traffic's Vikki Taylor loses cancer battle
COMMENT
:
Click to leave your thoughts on this post here