Take a deep breath everyone, Chris Stipes returns to Fox 26 KRIV for debut show with Rita Garcia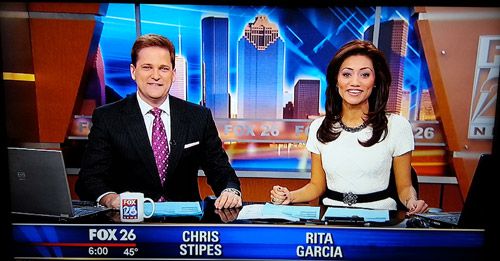 Beardless
Fox 26 KRIV anchor
Chris Stipes
returned to the airwaves today after his paternity leave, and for the first time, read the news with newly named co-anchor
Rita Garcia
.
The above photo was taken from the beginning of the 6am show when Stipes told the audience he had been gone for a while. His fellow KRIV-ers told Stipes how glad they were to have him back and meteorologist
Mike Iscovitz
advised Stipes, if burping his newborn while still wearing his anchor clothes, to please use a burb rag.
I had people emailing in panic mode that Stipes wasn't returning since he
cleaned out his desk before his baby leave time
.
"Yes indeed, I did clear out my desk because I hadn't really cleaned it in about seven years," Stipes told mikemcguff.com in November. "I wanted it to be nice and spotless when I return from paternity leave several weeks from now!"
To be honest, I can see the cause for their concern. Stipes' co-anchor
Natalie Bomke
took a ride on the Windy City express to WFLD Chicago, followed by morning show movie man
Jake Hamilton
. Then longtime reporter
Ned Hibberd
dropped his reporter's mic to become the assistant news director at WJZY-WMYT Fox Charlotte. Who is next?
Bur for now, everyone can take their chill pill since Stipes and Garcia have been on the air in their debut show together.
COMMENT
:
Click to leave your thoughts on this post here