Houston Texans pre-season game has "technical difficulties;" will re-air game Saturday night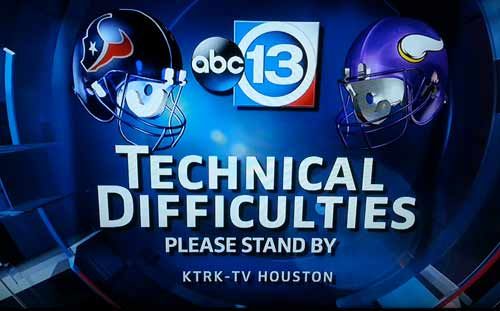 Houston...we have a problem...
again
.
Tonight the Houston Texans are taking on the Minnesota Vikings in pre-season action, but many Texans fans in Houston are watching static or a graphic.
KTRK abc13, the official station of the Texans, is having technical difficulties. Viewers have seen what looks like satellite transmission issues through parts of the game.
At different points a "technical difficulties" graphic with the team helmets was displayed with low quality audio of the game offered.
At halftime, the KTRK abc13 Facebook page had a message that read, "Hang with us folks. We're working on these technical difficulties. We hope to have it resolved soon."
One person I talked with in the TV industry told me, "there is no excuse for that."
I started receiving Tweets and Facebook messages immediately. One tweet said, "The gremlins must have taken over the Texans' feed too, huh?" That was in reference to an earlier incident this week where the
KTRK 10pm newscast opened with 10 minutes or so of commercials
.
UPDATE 5
KTRK has issued a statement on its site:
"If you watched the Texans-Vikings game on ABC13, you know there were issues with the broadcast coming out of Minneapolis, and KTRK-TV apologizes.
A faulty component in an uplink truck is the apparent culprit. It caused intermittent transmission interruptions to the signal reaching the satellite.
It sounds complicated. It is, and we'll make sure we solve the problem so it doesn't happen again. We truly regret the interruptions.
We will rebroadcast the game -- clean, and in its entirety -- Saturday night at 7pm and again Sunday at 1:35am."
UPDATE 4
From KTRK Facebook page: "We plan to rebroadcast the Houston Texans game tomorrow night on ABC13. Details to come.
Again, we apologize for the technical difficulties we've been experiencing. The problem is with the signal coming out of Minneapolis, and we have crews working to get it fixed as soon as possible."
UPDATE 3
From KTRK Facebook page: "We are sorry for the technical difficulties we've been experiencing during the game tonight. We're having a problem getting the signal out of Minneapolis, and we have teams working to resolve the issue ASAP (and keep it resolved).
We agree... this is unacceptable."
UPDATE 2
KVUE Austin anchor Terri Gruca
tweets
, "Technical issues with the feed from Houston -- for those of you watching the #game. That will explain the wacky colors you're seeing."
UPDATE
Getting reports on Twitter that KSAT viewers in San Antonio are having the same issues. Guessing it is a transmission problem from the game.
COMMENT
:
Click to leave your thoughts on this post here