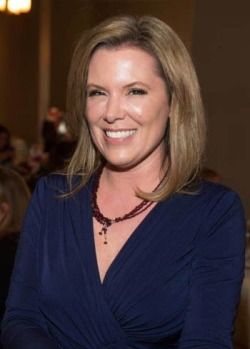 Casey Curry (Photo credit: Fulton Davenport)
KTRK 13 morning meteorologist
Casey Curry
served as the Mistress of Ceremonies for the Second Annual "What to Wear to that Equestrian Affaire" Fashion Presentation and Luncheon put on by the Pin Oak Charity Horse Show and The Houston Polo Club.
The event, held at The Wynden in late February, had 168 supporters of children's charities in attendance. It grossed more than $55,000 for three non-profit organizations: Texas Children's Hospital, Houston's Ronald McDonald House Family Rooms and Candlelighters Childhood Cancer Family Alliance.
Other media in attendance included Roseann Rogers for Prime Living, Marcy de Luna for
Houstonia Magazine
, Wendy Reeves for Health & Fitness Sports Magazine, Catherine Anspon for PaperCity and Lara Bell for Absolutely Memorial and Absolutely Katy magazines.
Lynn Walsh, president of Pin Oak Charity Horse Show, welcomed guests and supporters to the event. Alexis Caruselle, Janine K. Iannarelli, and Elizabeth Wood served as co-chairs. Tootsies provided a variety of upscale casual and equestrian looks that were worn by guest models, all of whom have an association with Pin Oak Charity Horse Show and/or Houston Polo Club.
Pin Oak Charity Horse Show is a 501c non-profit corporation. Established in 1945, Pin Oak Charity Horse Show is one of the oldest and most prestigious horse shows in the nation. Roxanne Cook is the executive director. The Pin Oak Charity Horse will be held March 20-30, 2013, at The Great Southwest Equestrian Center in Katy. Spectators are welcome, and admission to most events is free.
www.pinoak.org
RELATED
-
KTRK 13's Casey Curry talks to me about engagement
-
KTRK 13's Casey Curry becoming UH professor?
-
Houston media members dress up as toys
-
PHOTOS: KTRK 13 morning show promo shoot
-
KTRK 13's Casey Curry on GMA, must be the weekend
-
KTRK 13 meteorologist Casey Curry back on Good Morning America
-
High quality video of KTRK 13 meteorologist Casey Curry on ABC's GMA
-
KTRK 13 meteorologist Casey Curry back on Good Morning America
COMMENT
:
Click to leave your thoughts on this post here