Radio Brave Launches North American Search for the Next Podcast Sensation with $5,000 Cash Prize - Podcast Development and Marketing Firm Hunts for Promising New Talent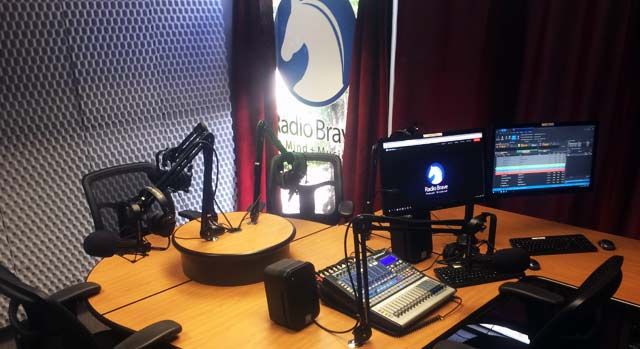 HOUSTON, TX—September 19, 2016—
Radio Brave
, the digital broadcast platform launched in May 2016 by broadcast marketing innovator Doug Harris, is on the lookout for rising stars in the podcast world to support the public's explosive interest in the platform.
"Radio Brave's purpose is to bring new content, from new people, to new audiences," explains Harris. "We began with weekly, one hour shows but since our studios and crew are perfectly suited to produce and distribute shorter formats, we're making podcasts, podcasting, and podcasters our focus. We are all about 'the P word'".
Radio Brave's Master 'Caster Talent Search will begin accepting entries on October 3, 2016 at Slam@RadioBrave.com. Submissions must be in English, no longer than four minutes and presented as audio files. Official rules are posted at the bottom of the home page at RadioBrave.com or
http://www.radiobrave.com/master-caster/
. One grand prize winner will receive $5,000 and a one year development, distribution and promotion contract with Radio Brave. The winning podcast must conform to iTunes and Google Play Music's terms of service before its worldwide launch by the Radio Brave team.
"The man or woman we select will get the best that Radio Brave has to offer," says Harris." If their talent is raw, they'll get coaching as needed. If their production is amateurish and that's not part of its appeal, we'll clean it up. And if they don't have a name, or an audience, or a sponsor, we'll make that happen, too. We have the best team and the best studios available to podcasters and our doors are open to established content generators as well as the podcast-curious."
Doug Harris
Radio Brave's portfolio of podcasting-related services will be overseen by respected programmer and talent developer Bobby "Slam" Duncan, and will include not only the recording and production of audio episodes, but also the marketing and promotion of the podcast and the pursuit of revenue for its creator.
"America's podcast superstars are putting out great product, attracting large audiences, and generating advertiser revenue," Duncan observes. "But most people don't start out at that level. Unless they already have a national presence or an established brand, they're going to have to earn their way to popularity and profitability. And we're here to help them."
Radio Brave's current long form broadcasts will continue but each show is also offered as an individual podcast, available for download on iTunes and Google Play Music. In addition, hosts of new podcasts will have their installments placed in rotation on RadioBrave.com's 24 hour platform, available online and via TuneIn.
"People can tune in to Radio Brave like they would any talk station," suggests Harris. "If they hear something they like, and want more of it, they can search iTunes and Google Play Music by program name. Podcasters get a one-two punch of exposure."
Radio Brave's programming content has been retrofitted to include podcasts, along with the existing longer form broadcasts. "Healthy Kids, Happy Kids" with concierge pediatrician Dr. Barbara Taylor-Cox, "Joy Ride" with the Metaphysical Moms, "Sip, Smoke and Savor" (spirits and cigars show), "Energy Recon with Alan Lammey", and "The Critics Circle" from the Houston Film Critics Society are all currently offered as podcasts and on Radio Brave's 24 hour digital platform.
For additional information on podcasting services from Radio Brave contact Bobby Duncan at Slam@RadioBrave.com or (901) 825-0731.
(This post was taken from a press release sent to me by Radio Brave)
COMMENT
:
Click to leave your thoughts on this post here