UPDATE
REVIEW: Earl Slick & Dayna Steele talk David Bowie and John Lennon
Talk, music presentation by two rock luminaries debuts October 2nd in Houston from Ovation Speakers and Talent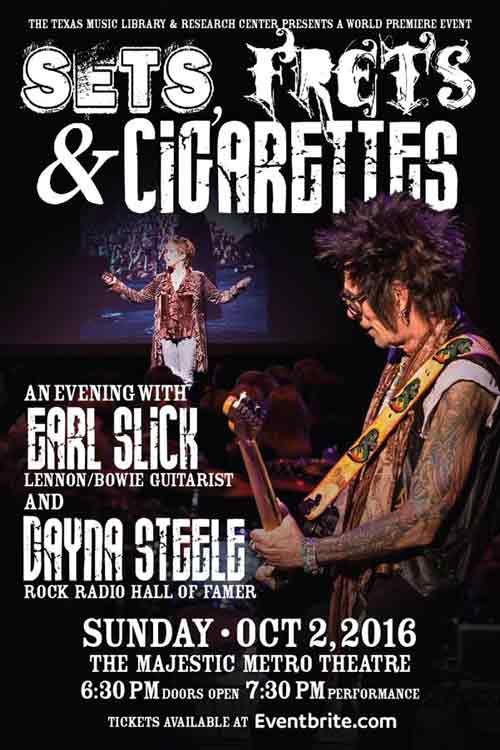 HOUSTON, TEXAS (September 7, 2016) – Dayna Steele, the award-winning broadcast personality, entrepreneur, author and professional speaker, will unveil the latest expression of her "find your inner rock star" mantra next month in a live stage production with David Bowie sideman Earl Slick.
The two-person show, which pairs this seasoned interviewer and presenter with the guitarist recruited by John Lennon, Yoko Ono and David Bowie, will include Slick's music and musings infused with Steele's inspirational messaging.
The world premiere of this first episode of Dayna Steele's Rock Talk Series will be presented to audiences on Sunday evening, October 2, 2016, in the historic surroundings of Houston's Majestic Metro Theatre. The production, orchestrated by Doug Harris through
Ovation Speakers and Talent
, will benefit
TexasMusicHistory.org
and its efforts to establish the Texas Music Hall of Fame program in Houston.
For several years, Steele and Harris had flirted with the notion of seasoning her speaking engagements with live music for the entertainment and motivation of business conference, convention, and college audiences. Steele's longtime friendship with Slick made him the logical first choice and the two began working with Harris in the summer of 2016 to bring the concept to life.
"Some bands play together for years and some implode on their first tour," observes Steele. "Talent is a factor, but understanding your role and what is expected of you is just as important. That's a message that business and student audiences can understand. Success takes more than talent. Slick's going to help me share that wisdom."
The inaugural installment of Dayna Steele's Rock Talk Series has been titled "Sets, Frets & Cigarettes", although its title and content will likely be customized for future audiences.
Harris, whose professional speaking career has taken him to 26 countries on five continents, believes the concept will be well received and will deliver the impact that meeting and convention planners demand.
"There are hundreds of talented speakers with solid material and beautiful PowerPoints who can do a great job for you," says Harris. "Or, you can hear stories and life lessons from the guy that held his own with the most controversial Beatle, his infamous wife, and Ziggy Stardust, moderated by one of the country's best motivational business speakers. Which presentation do you think people will be talking about a year later?"
Tickets for Sets, Frets & Cigarettes are available at
EventBrite.com
for $75, plus fees.
A limited number of VIP seats, which include a post-performance reception with Earl Slick and Dayna Steele, are offered at $125. All tickets include complimentary beverages. The October 2nd event will include a silent auction benefiting TexasMusicHistory.org.
The Dayna Steele Rock Talk Series is available exclusively through Ovation Speakers and Talent. Visit OvationSpeakersandTalent.com.
ABOUT EARL SLICK
From the spacey sounds of seventies David Bowie and the seminal work of John Lennon, to the gritty resurgence of punk pioneers the New York Dolls, Earl Slick has had two hands in shaping the sounds that have come to define legends. Slick got his start in the club scene of his hometown New York City, where he quickly gained a reputation as a unique and talented guitarist. In 1974, friend and film composer Michael Kamen recommended Slick to David Bowie as Mick Ronson's replacement in the Diamond Dogs tour. Although Bowie supplied most of the guitar work on Diamond Dogs, Slick managed to duplicate and expand on the tracks while injecting his own style into the live show, resulting in one of the greatest live rock guitar albums of all time, David Live. Subsequently, Slick was introduced to John Lennon, contributing guitar work to Double Fantasy, Lennon's final studio album. Slick also launched a solo career, which included the albums Razor Sharp and The Earl Slick Band. Subsequent Bowie tours brought Earl Slick additional acclaim and sustained his reputation as a world-class musician. In April of 2016, Slick was joined by Rolling Stones backup vocalist Bernard Fowler for the Station to Station Revisited tour in Japan and the UK. Visit EarlSlick.com for additional information.
ABOUT DAYNA STEELE
Dayna Steele has been on a microphone and a stage for the majority of her life. She has worked with the world's greatest rock stars as a Hall of Fame rock radio personality and has interviewed everyone from Mick Jagger and Jon Bon Jovi to presidential candidates, astronauts and more. Dayna brings the true stories and entertaining success strategies she picked up along the way to business audiences across the country. She is a successful entrepreneur, an author of eight books (including Rock to the Top: What I Learned about Success from the World's Greatest Rock Stars) and is the lead success strategist for the consulting firm Daily Success LLC.
ABOUT OVATION SPEAKERS AND TALENT
Ovation Speakers and Talent is a dependable resource for professional speakers, trainers, coaches and entertainers in service to meeting and convention planners. Presenters represented by Ovation may also be of interest to those who source and direct employee training and continuing education. Ovation Speakers and Talent maintains a stable of speakers from an assortment of professional backgrounds, with expertise in a variety of disciplines. Visit OvationSpeakersandTalent.com for their current roster.
ABOUT TEXASMUSICHISTORY.ORG
The
Texas Music Library and Research Center
(TMLRC) is a non-profit 501(c)(3) music heritage and library services organization dedicated to the research, education, preservation, and exhibition of Texas music history. TMLRC has been qualified as a State official "Texas Museum of Music History" by the Texas State Legislature, Texas Department of Transportation and Federal Highway Administration. The US Senate, the Federal Highway Administration, Texas Department of Transportation, Texas Historical Commission, Museum of American Music History/Texas Music Hall of FameTM, Western Heritage Historical Society, Hispanic Entertainment Archives, Texas Jazz Archives @ Houston Public Library, several distinguished universities, other regional, national and international entities have served in the development of the TMLRC program.
As a coalition of music families, private collectors and organizations with exquisite collections of Texas music, art, artifacts, recordings, photographs, film and music memorabilia, the museum program combines with other institutions dedicated to education and historical interpretations of Texas' indelible cultural assets. TMLRC has developed several options to coordinate the State's music history community into a hub-and-spoke network, a heritage trails program and visitor center. With the international tourist destination option, a hub facility would offer approximately 300,000 sq. ft. of educational, exhibition, performing arts, merchandising, and food and beverage space.
This master plan has the scope, definition and purpose to make Texas the Southwest component of a national chain of music museums. In an official "Texas Museum of Music History" program, the hub would serve as the state's heritage trails gateway to over 20 music museums, 50 historic dance halls, over 120 music heritage historical markers and more. For more information, visit TexasMusicHistory.org.
UPDATE
REVIEW: Earl Slick & Dayna Steele talk David Bowie and John Lennon
COMMENT
:
Click to leave your thoughts on this post here