Telemundo Houston KTMD to launch a 4pm newscast this fall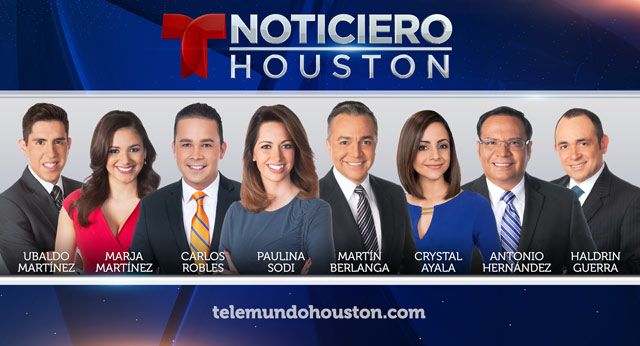 Starting September 26, 2016, 14 Telemundo-owned stations will add a new half-hour local newscast to deliver even more local news to their communities including KTMD Houston at 4pm.
Here is more from the release:
MIRAMAR, FL – (June 21, 2016) – The Telemundo Station Group today announced an expansion of its local news programming, unveiling plans to launch a new 30-minute newscast that will air weekdays at 5:00 PM ET / 4:00 PM CT beginning Monday, September 26 at 14 of its local owned stations. The expansion comes less than two years after the Telemundo Station Group ushered in a new era in Spanish-language local television by adding a half-hour newscast at 5:30 PM ET / 4:30 PM CT across 14 markets. The new news expansion at 5:00 PM ET / 4:00 PM CT will result in viewers receiving an additional 150 minutes of local breaking news coverage and up-to-the-minute weather forecasts each week in their respective markets. In those markets, the new 30-minute newscast will replace Telemundo network's half-hour show, The Best of Caso Cerrado, and viewers will continue to enjoy Caso Cerrado with Dra. Ana Maria Polo every weekday at 3 PM ET and 7 PM ET in its regular time periods.

"The Telemundo-owned stations have transformed local Spanish-language news and the way Hispanic communities receive the local information that matters to them," said Manuel Martinez, President, Telemundo Station Group. "This local news investment serves as a testament to our deep-rooted commitment and our sense of responsibility as local broadcasters to ensure that our Spanish language viewers – who have been underserved for far too long – receive best-in-class local news, up-to-the-minute weather forecasts and have access to important consumer information they need to help them stay ahead and be empowered consumers."

The Telemundo stations that will add the new half-hour newscast include: Telemundo 52 Los Angeles (KVEA), Telemundo 47 New York (WNJU), Telemundo 51 Miami (WSCV), Telemundo Houston (KTMD), Telemundo 39 Dallas-Fort Worth (KXTX), Telemundo Chicago (WSNS), Telemundo 48 Area de la Bahia (KSTS), Telemundo 60 San Antonio (KVDA), Telemundo Phoenix (KTAZ), Telemundo Tucson (KHRR), Telemundo 40 Rio Grande Valley (KTLM), Telemundo Denver (KDEN), Telemundo62 Philadelphia (WWSI) and Telemundo Las Vegas (KBLR). To support this initiative, the Telemundo Station Group expects to immediately hire at least 30 additional employees to boost the local newsrooms.

Martinez added, "I am proud of our stations and the work they do day in and day out to inform our Spanish language communities."

The local news expansion continues the increased commitment NBCUniversal has made to its local Telemundo stations to better serve Spanish-language viewers all across the country. Thanks to the company's significant investments, the Telemundo Station Group has revolutionized the way that Spanish-language viewers receive local news, with many local Telemundo-owned stations seeing strong results. At the close of the May 2016 Sweeps Period, the Telemundo stations in Miami, Phoenix and Denver outranked all local stations in their markets. NBCUniversal's investment has also supported other local news expansions, including in Philadelphia at Telemundo62 (WWSI) and in Boston at Telemundo Boston (WNEU); bolstered newsgathering efforts; equipped the news teams with the resources they need to be competitive in the markets they serve; launched newly redesigned digital platforms; and introduced new, single-station apps that feature the industry's first localized and automated weather push alerts in Spanish. Less than two years after the launch of the Telemundo Station Group's wildly successful consumer investigative franchise – Telemundo Responde (Telemundo Responds) – 12 Telemundo Responde teams have collectively produced more than 1,800 stories and recovered nearly $5 million for consumers all across the United States and Puerto Rico. This year, the Telemundo-owned stations are working closely with local community based organizations to host voter registration drives all throughout the country to help inform, empower and engage Hispanic voters. The stations' hyper-local voter registration effort is part of Telemundo's #YODECIDO one-of-a- kind multiplatform and comprehensive effort to empower Hispanic voters nationwide.
* (corrected after originally posting it was a 5pm newscast which the station already has)
COMMENT
:
Click to leave your thoughts on this post here