Jeff Jamison of KTVT CBS 11 in DFW will do anything to get the weather on, even draw it by hand
View post on imgur.com
Those Dallas-Fort Worth meteorologists will do anything to get the weather on. As
featured on Reddit
, KTVT CBS 11 meteorologist Jeff Jamison won't let a weather computer issue stop his weathercast!
No, after power surges hit KTVT Sunday night, Jamison just pulled out the dry erase board, his markers and started drawing.
No word if the anchors on set felt "funny" after inhaling the marker fumes.
Viewer reactions seemed pretty positive about Jamison's sketching abilities. Even a meteorologist at competing station WFAA applauded Jamison's work.
We've had a few power surges tonight @CBSDFW.. That's why @CBS11JeffJam is coming up w a #PlanB see you at 10. #DFW pic.twitter.com/g9jSMA52jE

— Kaley O'Kelley (@kaleyokelley) March 14, 2016
We don't usually praise competitors. BUT, @CBS11JeffJam deserves props for rocking a whiteboard tonight! #oldschool pic.twitter.com/aMCIaDahT5

— Ashton Altieri (@wfaaashton) March 14, 2016
@CBS11JeffJam your Texas drawing was amazing! I remember having to draw Texas in school and mine was horrible! pic.twitter.com/jzRPuMhSw3

— Kaitlyn Skidmore (@knskidmore) March 14, 2016
(Thanks Alice)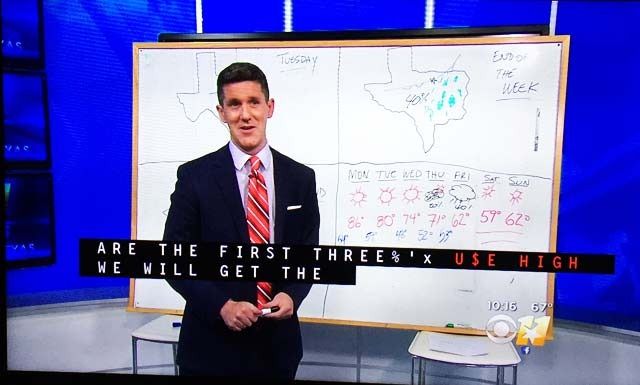 RELATED
Courtney Gilmore heading to NBC 5 KXAS DFW
COMMENT
:
Click to leave your thoughts on this post here