"Manor of Speaking" first episode to feature musical superstar Lyle Lovett; final season airing on PBS stations nationwide starting Jan. 3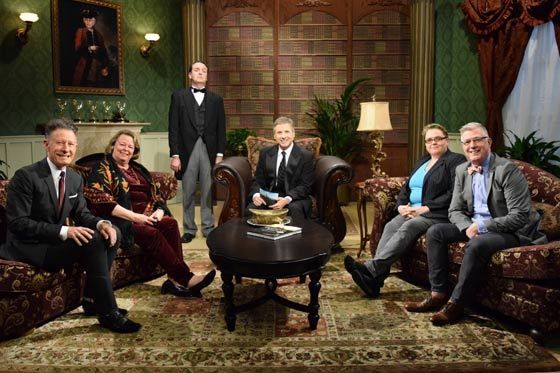 Houston Public Media's popular Emmy award-winning "Downton Abbey" after show is set to air on select PBS stations nationwide starting Jan. 3. Grammy-winning singer-songwriter and avid Downton fan Lyle Lovett is the special guest for this first installment, joining host Ernie Manouse, his butler "Mr. Rodgers," panelists Helen Mann and St.John Flynn, and guest Helen Valier with the University of Houston in a lively discussion of the long-awaited first Downton episode of its final season. Masterpiece executive producer Rebecca Eaton also joins the show as the special guest for the first "Across the Pond" segment.
"I'm a huge 'Downton Abbey' and 'Manor or Speaking' fan so I actually called Ernie and asked if I could be on the show," Lovett said at the taping for the first episode. "I thought it would be a lot of fun and it was."
"Manor of Speaking," which aired on more than 138 PBS stations around the country last season, airs immediately following each episode of "Downton Abbey." The show assembles a rotating cast of celebrated super fans and cultural experts who dissect the mysteries and drama unfolding in the Abbey each week. Each episode features re-caps, history lessons, surprise guests, behind-the-scenes stories and plenty of humor. The show gives "Downton Abbey" fans a chance to revisit their favorite show moments and to participate in a lively conversation designed to make the weekly experience last a little bit longer.
Past special guests include Downton Abbey's Lady Grantham (Elizabeth McGovern) and Thomas Barrow (Robert James-Collier); Former first lady Barbara Bush; resident of Highclere Castle Lady Carnarvon; Downton Abbey executive producer Gareth Neame; singer Helen Reddy; Emmy winner Holland Taylor from "Two & A Half Men"; socialite/international philanthropist Joanne Herring; and TV Guide Magazine senior critic Matt Roush.
"I'm really looking forward to a great final season," said Manouse. "The first episode featuring Lyle Lovett and Rebecca Eaton will not disappoint our many fans who tune-in each week after 'Downton Abbey' and we have a variety of other special guests and surprises planned for this final season."
To learn more about the show and how to be a part of the studio audience, visit manorofspeaking.org. For a complete line-up of Houston Public Media's news and information, arts and culture, and education programming, visit houstonpublicmedia.org.
(This post was taken from a release sent to me by Houston Public Media)
COMMENT
:
Click to leave your thoughts on this post here