After graduating from Klein High School, David Johnson went to Hollywood, worked on big shows and is now running PBS' "Genealogy Roadshow"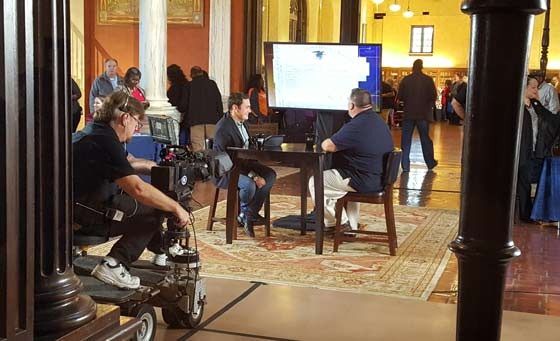 The weekend before Thanksgiving, as the streets around Houston's City Hall were being painted for Via Colori, right next door at the Houston Public Library's Julia Ideson Building, colorful family secrets were being revealed.
The third season of PBS'
Genealogy Roadshow
, in production now, appropriately set up shop in the manuscript and archival building to tape its Texas edition of the show for next year. Giant lights, XD Cameras, dollies, wires and determined crew members filled the newly renovated library that retains its classical feel.
David Johnson of Global Content Productions
Inside the grand hall upstairs, I found David Johnson, the executive in charge of production.
"Houston was picked because the number of entries we had from the local area that wanted to be on the show, it was a large number, larger than a lot of other cities and states," Johnson, who works with Global Content Productions, told mikemcguff.com. "Houston is a very big market for our show."
In preparation for the Bayou City stop, Johnson said the show researched a pre-selected group's family histories for six months. Using genealogical knowledge, history and DNA results, a team of experts pored through documents, letters and other clues to find the answers show participants wanted to know.
Speaking of family history, Johnson has some here.
The Klein High School graduate got his television degree at the University of Texas. He returned to Houston and worked in the sports broadcasting world during the early days of Home Sports Entertainment (HSE).
With the bright lights of Hollywood calling, Johnson left for Los Angeles. In his 35 years in the business, he's produced for
Entertainment Tonight
,
Extra
,
The Hero
with Dwayne Johnson and actually returned here where he created
Texas Justice
, a syndicated show that taped at the FOX 26 KRIV studios from 2001 to 2005.
Johnson told me it will take three months to edit the seven
Genealogy Roadshow
shows that will air next year on PBS (Houston Public Media TV8 KUHT Houston) starting May 17th.
In the meantime, the former Houstonian will debut
Santas in the Barn
on TruTV this December.
COMMENT
:
Click to leave your thoughts on this post here