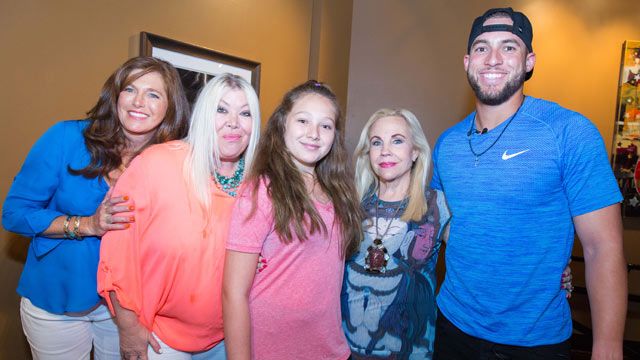 Melissa DeAyala, Lara Bell, Kirin Flores, Carolyn Farb, George Springer (Photos courtesy of SAY)
George Springer and SAY: The Stuttering Association for the Young hit the ball out of the park at the George Springer All-Star Bowling Benefit held on Sunday, June 11, 2017, at Lucky Strike Houston. Springer along with fellow teammates, other celebrities, Co-chairs Lara Bell and Melissa DeAyala, Junior Chair Matthew DeAyala, Honorary Chair Dr. Carolyn Farb and almost 300 fans raised more than $150,000. Proceeds from the event will send children from families-in-need to Camp SAY, a life-changing summer camp for young people who stutter. Springer, a person who stutters, hosted the Bowling Benefit to provide financial aid help and ensure that children from all socio-economic backgrounds have access to Camp SAY.
Cheryl Martin, Ron Trevino (Photos courtesy of SAY)
Kicking-off the evening, in the Luxe Lounge, was Noah Cornman, Executive Director of SAY, warming up the crowd and cheering them on to provide every young person who stutters access to Camp SAY. For a pre-game celebration Taro Alexander, founder of SAY, led with "Hype" - a pre-game rally with Springer and guests forming a huge circle of support around all of the kids who stutter. Alexander continued with the inspiring story of his experience as a person who stutters and how Camp SAY is saving lives because every voice matters. Springer, national spokesperson for Camp SAY, stepped up to the plate to voice his support for young people who stutter. He welcomed the kids in attendance and all kids who stutter to become a part of his team. He encouraged them to embrace their stutter and find their voice, and was followed by special performance by Director of Programming Travis Robertson and an inspiring speech from SAY teen Reuben Polanco. The Co-chairs and Honorary Chair kept the hype going as they encouraged the crowd to get excited to bowl and raise funds for Camp SAY. The Junior Chair, a person who stutters, scored a home run as he thanked everyone for supporting Camp SAY, a place where everyone can talk without interruptions.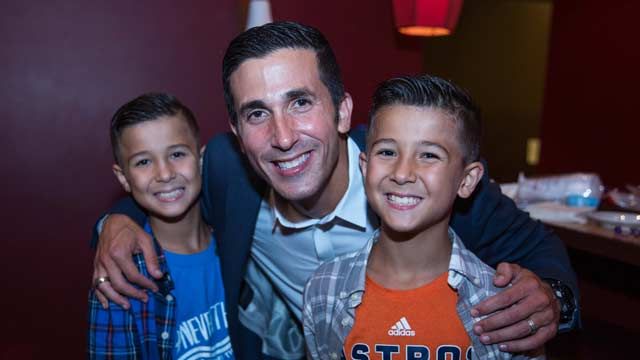 Christian, David and Cruz Nuno (Photos courtesy of SAY)
The event was in full swing when everyone hit the lanes to dance and bowl with Springer, celebrities and young people who stutter. The silent auction provoked friendly competition, but everyone came together to cheer Springer and the celebrity lane captain roster, which included:
KPRC Radio Host Michael Garfield
CultureMap's Ken Hoffman
KPRC's Khambrel Marshall
Houston Texans Whitney Mercilus
KTRK's David Nuno
Former Houston Oilers Dan Pastorini
KHOU's TV Anchor Ron Trevino
ESPN Radio Host Barry Warner
Loading up the bases with support from the Houston Astros were Springer's teammates Alex Bregman, Carlos Correa, Dayan Diaz, Michael Feliz, Mike Fiers, James Hoyt, Dallas Keuchel, Lance McCullers, Jake Marisnick, Francis Martes, Brad Peacock, Josh Reddick and Astros Manager AJ Hinch.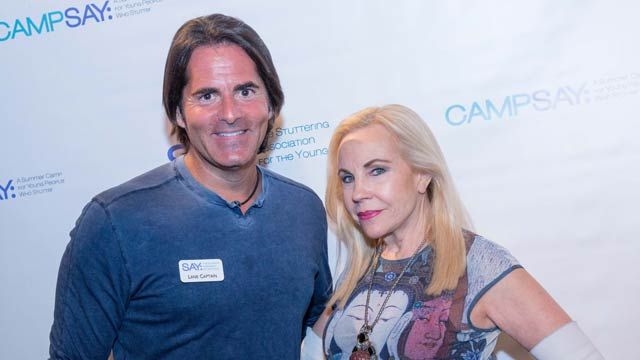 Michael Garfield and Carolyn Farb (Photos courtesy of SAY)
Star players in the game included: Lackland H. Bloom III and Caitlin Davis, Jeff Troncoso, Liz and Dave Unger, Susan and Mike Padon, Natalie DeLuca and Anson Lang, Johanna and Mike Chryssikos, Kathy and Doug Wright, Tandy Camberg Harris and Jon Harris, Roseann Rogers, Rob Todd, Dinah Lin, Guy Yount, Laurette Veres, Tom Flynn, Lanny and Debbie Griffith and Chris Swanson.
George Springer, Charlise Castro and Andre Castro (Photos courtesy of SAY)
Victory was made possible with the support of event sponsors: The Aloft Houston Downtown, Blackhorse Limousine, Ernst & Young, LLP, The Legacy Agency, Mister French's Gourmet Bakery and Stewart Title.
Rob Todd and Dinah Lin (Photos courtesy of SAY)
(Post taken from a press release)
COMMENT
:
Click to leave your thoughts on this post here