Houston Independent School District resolution honors FOX 26 KRIV for Isiah Carey television special on bullying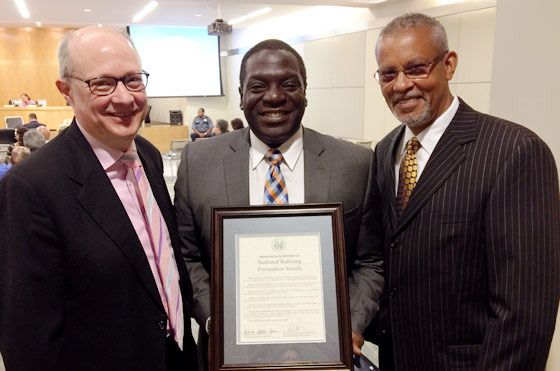 News Director Bob Morford, Isiah Carey, VP GM D'Artagnan Bebel (credit: FOX 26)
FOX 26 KRIV was honored by the Houston Independent School District last night at its board meeting.
Reporter
Isiah Carey
, General Manager D'Artagnan Bebel and Vice President of News
Bob Morford
were issued a resolution by HISD for their efforts in addressing bullying with students in the community.
KRIV was approached by HISD Trustee Wanda Adams in March 2015 to cover student bullying. The station responded by producing a town hall meeting with Westbury High School students. The station says it was shocked at the students' honesty concerning pain caused by bullying.
When Carey returned to the station with the video, Bebel called for a half hour special report on the subject.
"We do more hours of local news than any other station in the Houston market," Bebel said on the station's newscast. "And as such, we have the ability to go deeper. I know it's corny sounding, but in reality, it's something we want to do, and we have done in the past."
The now
2015 Lone Star EMMY nominated
Diversity in the Classroom
aired in April 2015 and has since been shown in classrooms across the Houston region. Some schools even added the program to their curriculum to address the bullying problem.
"When we come across a story like this that needs to be told, that begs to be told, this is something that's not only an honor, it's a duty to get this sort of story out there," Morford said added.
October is National Bullying Prevention Month. For more info, go to
stompoutbullying.org
.
COMMENT
:
Click to leave your thoughts on this post here