Peter Pan, Captain Hook, the old Houston Post building and lots of flying!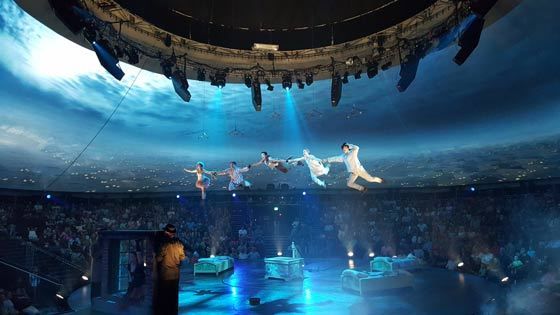 Just when you thought the old Houston Post building along 59 and 610 couldn't get anymore magical, then you might want to check out the large tent set up in the building's parking lot. Inside you will be transported to J.M. Barrie' Neverland with Peter Pan, Captain Hook and the Darling children from London. Smmmeeee!
Peter Pan 360 is a new live stage production show hitting the touring circuit with the classic tale and Houston was lucky enough to get its second stop (the show opened in Washington DC during the summer). I was invited by the show for opening night and highly recommend it.
That "tent" is actually a state of the art, 100 foot high structure, containing 15,000 square feet of hi-resolution projection thanks to 13 projectors.
Actors are on the stage in front of the audience, but all around the top of the audience is a 360 degree projection that changes scenery. And from what I could tell, there is not a bad seat in the house. No poles block your view of the action.
We all think of Disney's version of Peter Pan, but this production falls more in line with the original J.M. Barrie story. But don't worry, there is still plenty of flying. In fact, the actors are as high as 40 feet in the air surrounded by the CGI projections.
"My favorite part is when we all take off to go to Never Land because it is like first moment where the audience is flying with us," Jessie Sherman, who plays Tinker Bell, told us. "It's a really, really special moment. I always get very excited for that part."
I got a chance to watch a pre-show behind-the-scenes demonstration and with the lights on, it's even more apparent how much work and strength go into putting this tale before nightly audiences.
"Before you can learn all of the fancy tricks, you have to do a lot of basics," Sherman said. "So there was a lot of core work and stretching. Then you can start incorporating those simple things into the larger more intricate choreography."
Sherman told us show rehearsals took place in New York earlier this year. There was no fancy stage with trap doors or lighting at that time. Tape was put on the floor to represent where items would appear. Boy how things change. Now there are multiple sets, puppets, stage props and costume changes.
The show has some intense sword fighting which I found out was approved by members of the
Society of American Fight directors
. Yes, that is a real group.
Houston gets the show now through October 17th. Then, Peter and the gang move to Dallas starting November 11th.
And speaking of magic, this wouldn't be a Houston media blog if I did not mention the old Houston Post building, which the Houston Chronicle has owned since the former paper shut down, is currently being gutted as the Chron crew prepares to move there eventually.
peterpan360.com/
COMMENT
:
Click to leave your thoughts on this post here