"Downton Abbey" after show "Manor of Speaking" wraps up season
"Manor of Speaking" host and producer, Ernie Manouse, pictured with season finale special guest, Joanne King Herring. (Photo: Jonathan Sandys)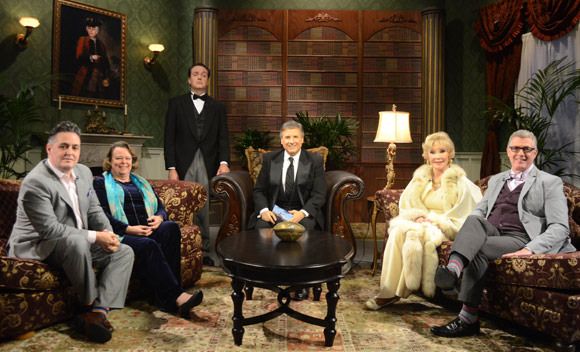 On the set of Houston Public Media's "Manor of Speaking" during the season finale. (L to R) Special guest Evan Turner, Helen Mann, the butler "Mr. Rodgers," Ernie Manouse, special guest Joanne King Herring, and St.John Flynn. (Photo: Jonathan Sandys)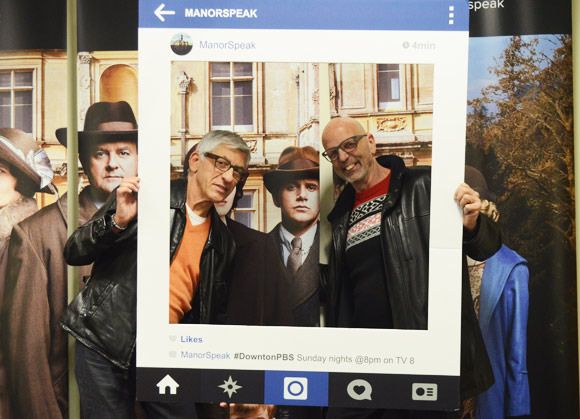 John Dascouilias and CultureMap Houston's editor-in-chief, Clifford Pugh, pose for a photo with the "Downton Abbey" upstairs characters at the "Manor of Speaking" season finale. (Photo: Jonathan Sandys)
Here are photos from the "Manor of Speaking" season finale taping that aired Sunday night on Houston Public Media TV8 KUHT.
Host Ernie Manouse and his trusty manservant "Mr. Rodgers," lead a studio audience, a rotating cast of super fans and cultural experts through the world of "Downton Abbey" immediately following the hit PBS show's airing.
The Houston-based show has been picked up on other PBS stations across the country.
http://manorofspeaking.org/
COMMENT
:
Click to leave your thoughts on this post here