Five months into 2017 and KTMD continues to be Houston's #1 most-watched station in Primetime and Late News among Adults 18-49 in May 2017 sweeps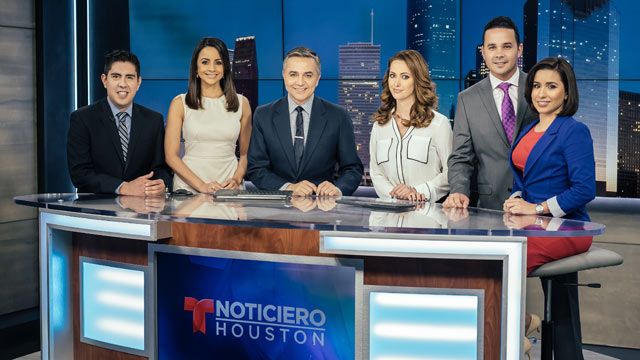 HOUSTON, TX – (May 25, 2017) – "Noticiero Telemundo Houston a las 10PM" closed out the May 2017 survey period as the year's most-watched local late news, regardless of language, among Adults 18 to 49. In addition, the station's weekday late newscast, continued to rank #1 in the market, in any language, among Adults 18 to 34 and Adults 18 to 49 over the past twelve months.
In Primetime, Telemundo Houston / KTMD delivered the market's largest Adult 18 to 49 audiences this year-to-date, regardless of language.
KTMD continues to be the only Spanish-language local television station in Houston that continues to deliver year-over-year audience growth during Primetime and at 10 PM among Adults 18 to 34, Adults 18 to 49 and Adults 25 to 54, year-to-date.
RELATED
The rise of Houston Spanish TV
Source: Nielsen (NSI) Houston; Prelim Live +SD; Arianna Reports; YTD AVGs 2017 (1/1-5/24/17), 2016 (1/1-5/24/16); 12 Mo. Avg. (6/1/16-5/24/17); % change YTY (2017 YTD AVG vs. 2016 YTD AVG); TP AQH Impressions M-F 7p-10p (KTMD, KXLN, KFTH, KZJL, KYAZ, KTRK, KHOU, KPRC, KRIV,KIAH, KTXH, KUBE); Late News PAV 9p-1030p & TP 10p-1030p Impressions (KTMD, KXLN, KFTH, KTRK, KHOU, KPRC, KRIV, KIAH); % change Spanish-Language Stations (KTMD, KXLN, KFTH)
(This post was taken from a press release sent to me by KTMD)
COMMENT
:
Click to leave your thoughts on this post here