ESCAPE's 35th Annual Celebrity Serve Gala Don Your Hard Hats and Heels to Prevent Child Abuse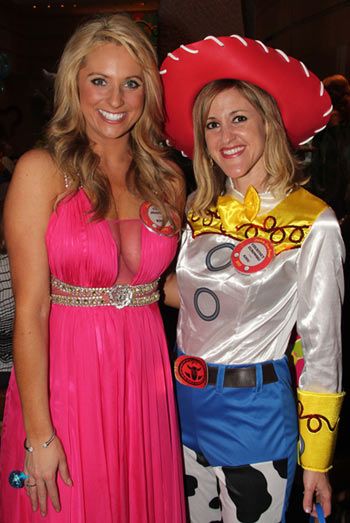 KHOU's Chita Johnson and Courtney Zubowski Haas
at a previous ESCAPE event
"Hard Hats and Heels" is the theme for ESCAPE Family Resource Center's 35th Annual Celebrity Serve Benefit dinner and auction, which will take place at the award-winning Tony's Restaurant on Sunday, April 10, 2016.
This popular fundraiser has been chaired by Joan Schnitzer Levy and Gerald Franklin for more than 30 years. It features local and national celebrities, who entertain, dine and mingle with guests to raise funds needed to help prevent child abuse and neglect in the Greater Houston community. Guests will be dazzled with an amazing live auction, limited edition raffles, fun games and more.
There is so much to celebrate at ESCAPE. Leadership, staff, volunteers and supporters of the agency are donning their "HARD HATS" and kicking up their "HEELS" with excitement over a new building ESCAPE has purchased and is renovating in Midtown. The facility will become a central hub for education and support for parents and professionals in the Greater Houston area and beyond, allowing ESCAPE to dramatically expand much needed programs and access to them.
Building a healthy and confident family starts with creating a strong foundation, and having the right tools to achieve this is an essential part of the blueprint for success. ESCAPE Family Resource Center's child abuse prevention and parenting programs provide services in at-risk communities – to the families that need them the most – and involve the entire family in the learning process. ESCAPE is the only organization of its kind in Houston, educating parents and children in the prevention of child abuse. Classes are taught in English and Spanish, in more than 80 locations in the Greater Houston area.
You can help ESCAPE construct happy homes in Houston and break the cycle of abuse by making plans to sponsor a table at this memorable event. For more information about becoming a sponsor or donating an item for our auction, please contact Sandi Mercado, Director of Development and Communications, smercado@learntoparent.org or by calling (713) 942-9500, ext.
This year's special guest is Lee Majors! Actor Lee Majors a Television and Film Icon with a career spanning 54 years starring in TV roles such as The Big Valley, The Six Million Dollar Man and The Fall Guy. Lee is still busy working in film and television.
In 2015 he appeared and starred in two feature films Do You Believe and Almosting It. Lee recently wrapped up filming Season 2 of Ash Vs Evil Dead for the Starz Channel which will premier October 2016.
The 2016 Houston media servers include:
LARA BELL
ABSOLUTELY! MAGAZINES
FRANK BILLINGSLEY
KPRC CHANNEL 2 METEOROLOGIST
GENE CERNAN
LAST MAN ON THE MOON
ANDY CEROTA
KPRC CHANNEL 2 ANCHOR
WALT CUNNINGHAM
APOLLO 7 LUNAR MODULE ASTRONAUT
DEBORAH DUNCAN
GREAT DAY HOUSTON
AMBER ELLIOTT
HOUSTON CHRONICLE
AL FARB
93Q RADIO PERSONALITY
SHARA FRYER
NEWSRADIO 740 KTRH
MICHAEL GARFIELD
THE HIGH TECH TEXAN
BOB GOMEL
LIFE PHOTOGRAPHER
LANNY GRIFFITH
TEXAS RADIO HALL OF FAME
JANET GURWITCH
ENTREPRENEUR
CHITA JOHNSON
KHOU CHANNEL 11 METEOROLOGIST
STEVE JOHNSON
950 MORNING RADIO PERSONALITY
TOM KOCH
KTRK CHANNEL 13 ANCHOR
JASON MAHONEY
MIX 96.5 RADIO HOST
LEE MAJORS
TV & MOVIE ICON
ERNIE MANOUSE
HOUSTON PBS HOST
DAVID NUNO
KTRK 13 SPORTS REPORTER
TODD RAMOS
CELEBRITY STYLIST
JAKE REINER
KPRC CHANNEL 2 REPORTER
ROSEANN ROGERS
"THE BUZZ LADY"
BOB SAKOWITZ
PRESIDENT & CEO, HAZAK CORP
EDWARD SANCHEZ
CELEBRITY MAKEUP ARTIST
JANET SHAMLIAN
NBC NEWS/TODAY SHOW
WADE SMITH
AUTHOR/FORMER NFL PLAYER
CLEVERLY STONE
FOX 26 & CBS SPORTS RADIO 610
RON TREVINO
KHOU CHANNEL 11 ANCHOR
LYNN WYATT
INTERNATIONAL PATRON OF THE ARTS
COMMENT
:
Click to leave your thoughts on this post here